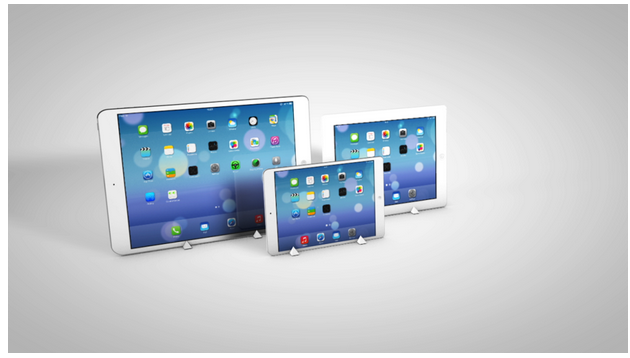 According to Japanese magazine quoted macotakara January 2015 issue of Mac Fan news, Apple will probably be launched in April next year to June 12.2 inches screen, big-screen tablet computer iPad Air Plus.
Allegedly this tablet 12.2 inches touch screen in addition to the configuration, it also equipped with the new A9 processor and four speakers to provide a full range of stereo sound. Its dimensions of 305.31 x 220.8 x 7mm.
Prior to August, Bloomberg has quoted informed sources said that Apple will launch the largest ever size tablet, this tablet will reportedly be named iPad Pro, a full-screen size of 12.9 inches, has the equivalent of a Taiwan Macbook Air laptop, news that the new products will be launched in the first quarter 2015.
There are also a number of sources also pointed out that Apple will launch a large-screen version of the iPad, despite the current situation from various sources on the specific size and naming differences remain.
But this Mac Fan also released the so-called iPad Air Plus drawing, although its authenticity has yet to be confirmed, but in the past the magazine has been released ahead of iPhone 6 and iPhone 6 Plus drawings, later confirmed that the product is consistent with the actual .
From a practical point of view, Apple launched a large-screen tablet PC is understandable. This year, sales of iPad tablet three consecutive quarters of decline, after the big-screen version of the iPhone 6 and iPhone 6 Plus is launched had a greater substitution effect. Apple needs to launch larger tablet to provide product differentiation.
However, Apple does not seem to give up the upgrading of the old product line. Mac Fan also said that Apple will launch iPad mini 4. Reported that this new compact version of the iPad uses A8X iPad Air 2 processor and the same design, but iPad mini and iPad mini 3 will be offline.