Nowadays, the internet, Smartphone as well as tablet pc made it easier than ever to share media and data with friends, family, and co-workers, but that doesn't mean burning your own CDs and DVDs is a thing of the past. Today, CDs, DVDs and Blu-ray discs are still a very useful way to store, share and present your data. For example, the blank optical discs are dirt cheap, they work virtually everywhere, and if you bought your computer sometime in the last 5 years, chances are you've got the necessary hardware to quickly burn anything you want to a disc in just a few minutes. Now all you need is the right authoring tools – a reliable DVD burning software. Following are the 3 best CD and DVD burning software. You can pick one from this list which suites you most.
1. ImgBurn
ImgBurn supports a wide range of image file formats – including BIN, CCD, CDI, CUE, DI, DVD, GI, IMG, ISO, MDS, NRG and PDI. It can burn Audio CD's from any file type supported via DirectShow / ACM – including AAC, APE, FLAC, M4A, MP3, MP4, MPC, OGG, PCM, WAV, WMA and WV. You can use it to build DVD Video discs (from a VIDEO_TS folder), HD DVD Video discs (from a HVDVD_TS folder) and Blu-ray Video discs (from a BDAV / BDMV folder) with ease. It supports Unicode folder/file names, so you shouldn't run in to any problems if you're using an international character set. Besides, ImgBurn supports all the Microsoft Windows OS's – If you use Wine, it should also run on Linux and other x86-based Unixes. It's a very flexible application which can support all the latest drives without the need for updates.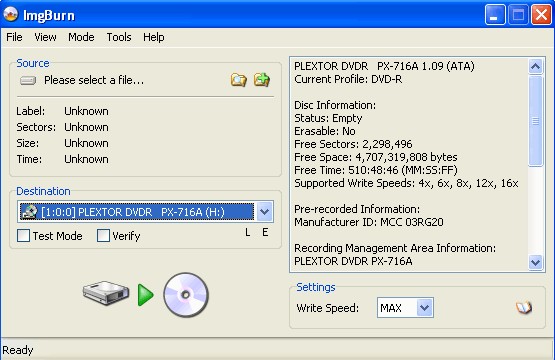 2. CloneDVD DVD X Utilities
DVD X Utilities is a complete solution for DVD Playback/copying/authoring. This suite covers the full spectrum of DVD video software. The cutting-edge function aggregate leverages your traditional DVD utilizing ways. There are multiple separate DVD tools contained in, CloneDVD, DVD X Player, DVD Ghost and Audio DVD Maker. With this comprehensive set of tools, you can: release a region-blocked DVD drive or player to play DVDs without region limitation; backup copyright-protected DVD movies; easily author your own favorite music DVD discs; and you can even make those third party DVD playback/backup software region-free and CSS-free.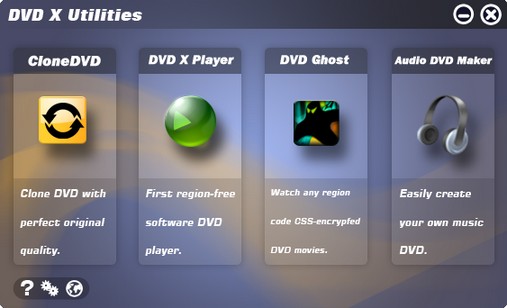 3. Ashampoo Burning Studio 6 Free
The Ashampoo Burning Studio 6 FREE keeps all the advantages of its predecessor and adds multi-disc file backup, an integrated audio CD ripper and further improved support for the exciting new Blu-ray format with capacities of up to 25 gigabytes per layer. Many users are tired of over-complicated CD burning applications that are getting harder and harder to use. Sometimes you can waste most of your time just trying to find a function. Ashampoo Burning Studio 6 FREE focuses on what you want: To burn discs quickly, easily, with maximum quality and minimum hassle. It includes everything you need to be able to do that. And it excludes everything that could get in the way.