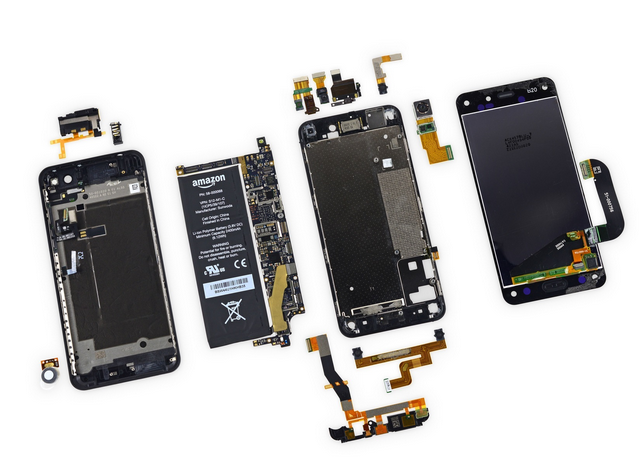 According to Re/code, disassembly analysis research firm IHS providing a report, Amazon has just launched the Fire mobile phone components cost price is $205, higher than the apple iPhone 5 s. After dismantling of the iPhone 5 s and the iPhone 5 c , IHS  concluded that the lowest cost of spare parts used both are $199 and $173 respectively, and the lowest manufacturing cost of the Samsung Galaxy S5 is $256.
The dynamic perspective 3D technology carried by the Amazon Fire mobile phones is the selling point of this kind of mobile phone. Found during dismantling, the dynamic perspective 3D technology function equipment based on the four corners, and installed a sensor in every Angle.
IHS also mentioned in the report, supplier of mobile phone spare parts in the Fire, QUALCOMM has become the biggest winner, as the Fire mobile phone provides multiple components, this includes the main processor and other nine different components. Based on IHS judgment, the Fire mobile phone used by its 4.7 -inch screen to save some of the overhead, because chose 720 p rather than a 1080 p screen, so the Fire the cost price of mobile phone screen is only $27, while the iPhone 5 s screen cost price for $43, the Samsung Galaxy S5 screen cost price is $63.
Lower cost of components means that the Fire will have good profit margins, but if compared to the iPhone, Amazon into the smartphone market for seven years late, this is definitely a flaw. IHS is responsible for dismantling the business analyst Andrew Rassweiler said: "Amazon invested a lot of research and development money on the Fire phone, if you want to recover these costs, is the only way to sell it."