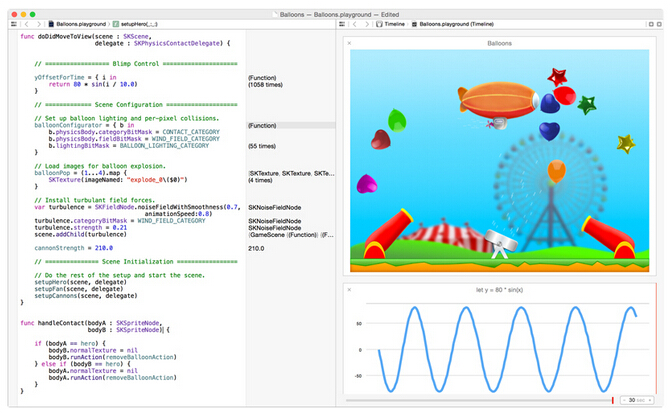 In WWDC 2014, in addition to the most-anticipated OS X 10.10 and iOS 10.8, Apple has released a new programming language Swift. In the description of the apple executive Craig Federighi, Swift, is better than the Objective – C in any aspect, which will not have many complex symbols and expressions and it is faster, safer and more convenient and efficient. In addition the new Swift language is still compatible with Object – C.
What's even cooler is that in the process of demonstration, apple also shows the code real-time preview function Swift Playground which can greatly improve the efficiency of programming; it means that when inputting code on the left side, code execution effect can be demonstrated on the right side of the screen in real time, which the developer in the programming development process can fast forward or backward to preview code and code implementation effect of each part will real-time displayed to test their own development program in each link of the reaction
Swift allows developers to implement more content through less code. New Swift programming language not only changes the Objective – C complex syntax, retains the dynamic characteristic of the Smalltalk to make it more simple and easy to use. Since its compatibility with the Objective – C, developers can be seamlessly switch in the developing process.
Swift fully supports the Xcode and is available to developers via iBookstore. In addition to that developers can also submit new applications programmed by Swift at the end of the year when the iOS 8 released.