Apple finally unveiled the next version of the iPad mini – the iPad Mini 2 with Retina Display – at its October 22 event. The addition of Retina Display was the one feature that many iPad mini fans were asking for. This iPad mini with Retina Display, which comes in Space Gray and Silver, will run iOS 7 out of the box, features a powerful A7 processor. This announcement was made shortly after Apple showed off the new iPad Air – the thinner, faster version of its predecessor.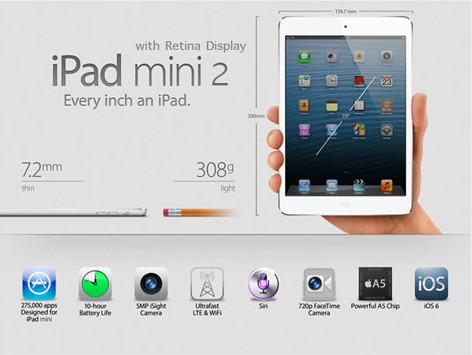 Notice: Have already got an Apple Mini and want to convert and transfer your favorite VOB movies to iPad? Please try the Video Converter.
The new thinner, lighter and faster new Apple iPad Mini ranges, now complete with Retina displays, look set to be the best iPads yet, and the new prices on the existing iPad Mini means they'll be more affordable than ever. They will undoubtedly be a huge hit in the run up to Christmas. Last year, tablets were the must-have technology product for the festive season, and it can be predicted this year will be even bigger with tablets flying off the shelves at a rate of one every fifteen seconds this Christmas. The competition is more intense than it's ever been, with sales of the latest Samsung, Google and Microsoft tablets up 80% year on year at John Lewis. There's been so much development in the market over the past few years, with new screen sizes, new brands and keener prices than ever before.
iPad Mini with Retain vs. iPad Mini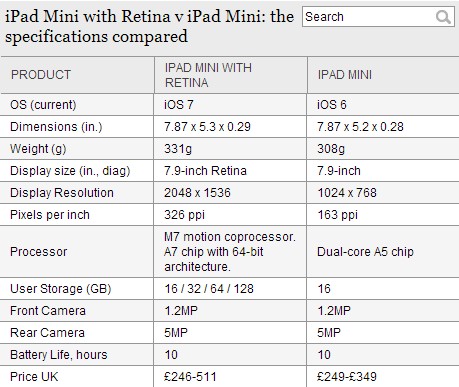 Pricing for the iPad mini with Retina Wi-Fi only models starts off at $399 (£319, AU$479) for the 16GB version, then jumps to $499 (£399, AU$598) for the 32GB model, $599 (£479, AU$699) for 64GBs, and $699 (£559, AU$799) for a whopping 128GBs. If you want Wi-Fi plus cellular service the price gets a bit steeper. For the 16GB Wi-Fi plus cellular version, you'll have to shell out $529 (£419, AU$629). The 32GB size will cost you $629 (£499, AU$749), and the 64GB and 128GB will set you back $729 (£579, AU$849) and $829 (£659, AU$949) respectively.