A DVD can hold more contents than a CD. Usually you can put 5-6 audio CDs on one DVD disc. Put the music on a disc with more capacity, and then you don't need to keep switching out several CDs. Can we create a music DVD from audio CDs? Does the audio play in a regular stereo after burning?
Once you know there is an audio DVD authoring utility, you won't have these concerns. Audio DVD Maker can direct CDs to DVD copy without losing quality. It burns DVD-video compliant disc that playable on any car or home DVD player, or create audio DVD folder to hard disk for later burning.
What You Need?
Audio CDs to Music DVD Guide
Five steps to burn a music DVD.
Step 1. Run the Program
Install the setup package on your Windows computer, launch it.
Step 2. Import Source Disc
Go to "Edit" window, click "Import CD" button

to load audio CD. A dialog will popup displaying all CD tracks on the CD .The program will connect to CD data base server automatically to get all album information. Just select the tracks you wanted to import and click "OK". Load another one to import audio tracks.
Step 3. Edit Navigation Menu & Set Audio and Video Mode
This audio DVD maker comes with three background images, just click on anyone of them to set it as background image of DVD menu.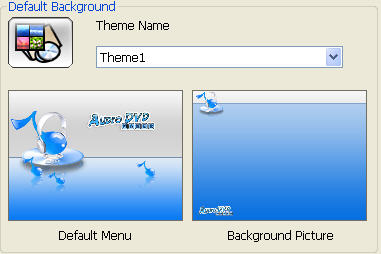 Choose audio sample rate, TV mode, display mode, aspect ratio as needed. NTSC format is mainly supported in USA, Canada, South America & the Caribbean. PAL format is supported in most other countries.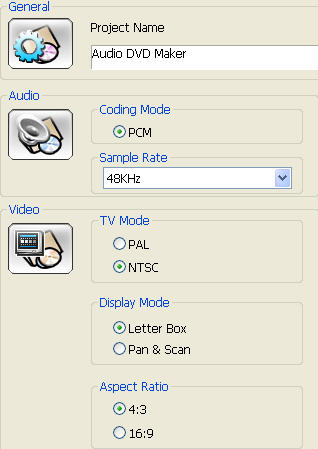 Step 4. Output Setting
Go to "Output" and choose DVD burning in "Output Type". Select burn engine and DVD burner in "DVD Burning" area. All DVD writer drives will be listed on the combobox, just select target burner and insert a blank DVD disc if you want to burn audio into a DVD. If you want to create a backup of DVD image on your hard disk you should select Output Type as DVD-Video Folder.
Step 5. Create DVD
Load a blank DVD and click the button "Create"

to burn your music DVD.