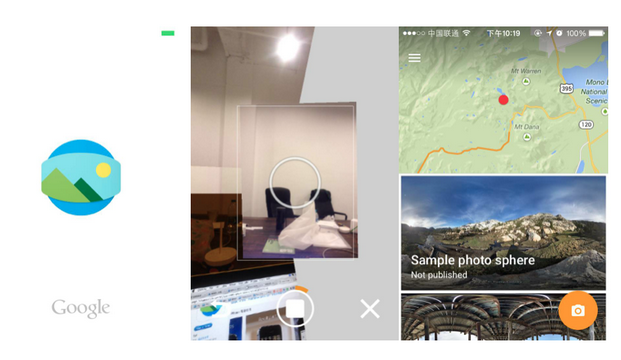 Google has been committed to let users on Google Maps have more choices and better experience, street view, and in the Google Map to explore the major scenic spots are very typical behavior, Google also launched today a Photo iOS application Sphere Camera panoramic Camera, let users can through the app, taken around 360 ° panoramic images, then share to Facebook, Google +, Twitter and Google Maps, panoramic Camera original integration in the Android system.
User according to clew, the camera to move from one point to another point, and then covered the space of whole 360 °, which is finished making (as shown in the figure below).I use the whole experience was slower. Google's Photo Sphere Camera for said in the introduction of the iPhone application, users taken Photo Sphere photos to be presented in its comprehensive landscape of real let you relive once the beauty of the encounter, and to share with you. Metropolitan culture such as outdoor activity lovers, lovers, and so on.
The application based on Android system on a function, this function first appeared on the Nexus.There is currently no shooting Photo iPhone 4 Sphere.
Photo Sphere Camera has not been a gathering panoramic Camera, before we have introduced a Sphere of product, function with Photo Sphere Camera, if you are interested in a certain place, can look at the photos taken at the local, fun is that when the view, you can drag the screen, can also take a mobile phone, looking around as if are you doing, to see Paris, Venice, Florence and other famous scenic spot.Sphere at the same time also have corresponding supporting hardware motrr let users.