Looking for a way to play your favorite DVD movies on your incredible iPhone? A DVD to iPhone converter would easily guide you through the whole process. Entire Disc mode of DVD to iPhone Converter allows users to convert the whole movie including intros, bonus footages, audio tracks, subtitles, menus and keep the original video & audio quality.
Aviosoft DVD to iPhone Converter has a fool-style interface. With only a few clicks, you can convert entire DVD to iPhone Family including iPhone, iPhone 3/3GS, and iPhone 4/4S.
Guide on How to Rip Full Movie
Prepare things we need: a Windows computer, a DVD movie that you want to convert, setup package of the converter.
Step 1. Run the Converter
Install the setup package on your Windows computer, and launch it after installation.
Step 2. Load the DVD Disc
Insert the disc into computer DVD drive, the converter will automatically read it quickly, and show all the DVD information on its interface such as size, rating, release date, quality, titles, audio, subtitles, etc.
Step 3. Common Settings
1).  Choose Entire disc mode
2). Browse to set the output folder where the converted file will be saved.
3). Choose the audio & subtitle.
Step 4. Start Ripping Process
After all settings have done, just click the big "Start" button to rip the whole movie to iPhone and stand back.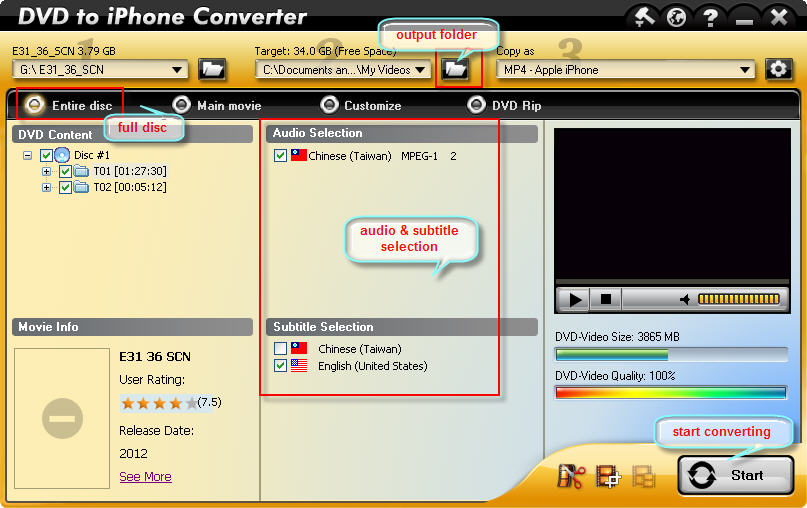 The encoding time will depend on several variables including: the duration of the video file, the speed of your computer, what other activity your computer is currently doing.
Now that you have your new movie file, you probably want to import it into iTunes right? Here is how:
1. Connect your iPod, iPad or iPhone to your computer using the cable it came with and open iTunes (Applications > iTunes).
2. Drag and drop the video file you just made into your iTunes library, or select Add to Library… from the File menu.  Make sure the video file you just added to iTunes is in a Playlist that will get synced to your device.
3. Select "Sync"
4. The sync may take a few minutes. Once completed, the file should now be on your iPhone.