Would you like to extract one or several chapters from a DVD and put them on your iPad? Sometime, you feel especially like one chapter of a movie or several songs in a concert. Actually, you don't need to find out another DVD editor, what you need to have is a DVD to iPad converter with a customize mode, which let you select the DVD titles before converting DVD to iPad, so that you can get what you want. And in the following guide, I will show you how to customize DVD to iPad.
Guide: Customize DVD to iPad
Before we get started, we need to download the DVD to iPad converter and install it on a Windows computer.
Step 1. Load DVD onto the converter
Launch the converter and insert the DVD that you want to convert into DVD driver. The convert will automatically read the disc quickly.
Step 2. Customize DVD
Choose "Customize" mode, select DVD titles from the "DVD Content" area. You can preview the DVD in the mini player to decide which chapter to choose. Just double click the title, and then the built-in player will start playing.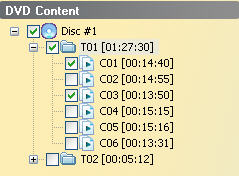 Step 3. Set Output
Browse to select an output folder to save converted files. And Select the audio and subtitle that you would like to keep.
Step 4. Start Converting
After all settings finish, you can click "Start" button to begin convert the customized DVD titles to iPad.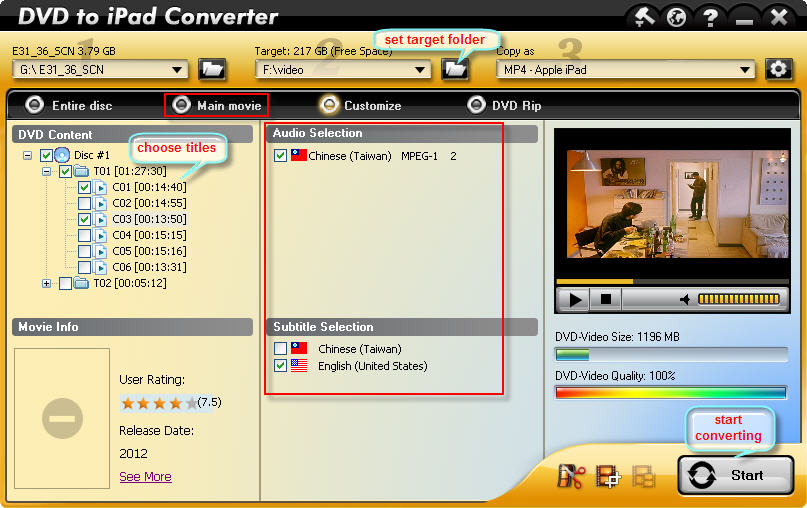 Wait for the completition, and find the converted MP4 files in the target folder you have set in step 3, transfer files to iPad through iTunes.