One who travels a lot would have the experience that never takes an original DVD on the road because it will not surprisingly end up damaging or losing at some point. Due to piracy concerns, DVD manufactures put copy protection on DVDs, so duplicating a DVD is not always a simple matter.  This guide does not attempt to teach you how to pirate DVDs, but if you have legal needs, you can use DVD duplication software to duplicate DVD effortlessly. The follwing are the solutions on how to duplicate a DVD.
Duplicate a DVD using freeware
Even if your DVD is not copy protected, the contents of a commercial DVD may often be too large to fit on a DVD-R/RW or DVD+R/RW. Freeware can take care of this problem. There is a copy of freeware DVD Shrink on Doom9.net; you can also get the step-by-step guide for using DVD Shrink.
Duplicate a DVD using CloneDVD
It was moderately priced and it tries to do everything and do things well. Using CloneDVD, you can duplicate any DVD movies by removing all existing DVD protections automatically. It supports to compress/shrink DVD9 to DVD 5, copy DVD9 to DVD9 and DVD5 to DVD5 perfectly, split or divide DVD9 into 2 DVD5 and even convert DVD to MP4, DVD to 3GP, DVD to AVI, etc.
* Launch CloneDVD, choosing "Main movie" from the main menu.
* Load DVD into DVD-ROM and target DVD disc into DVD±RW. Then DVD information will be shown on the main interface.
* Examine the DVD Capacity Window. There would have three choices: 4.7GB, 3.95GB, and 8.5GB. Select DVD as output format, and specify target DVD disc size.
* Click "Start" to duplicate. CloneDVD will auto begin to burn to target DVD disc, no need to eject the original disc.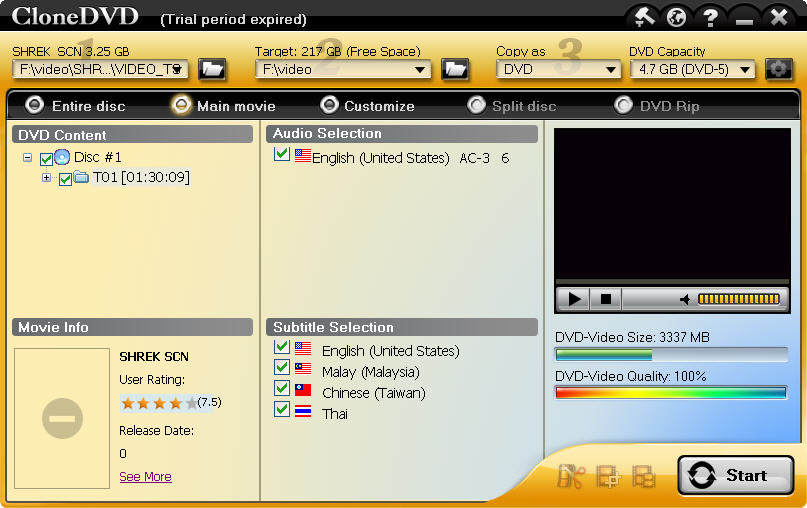 If you have only one DVD±RW drive on your PC, select the same DVD±RW as both source and destination. CloneDVD will duplicate contents to temporary hard disk folder first. After duplication finishes, please eject the original DVD disc and insert a blank DVD disc, then cancel the popup autoplay box and press "OK", CloneDVD will begin to burn.