Piracy of movies led to the enforcement and encryption of DVD protection technology. Each DVD is encrypted with something called Content Scrambling System (CCS) and many other protections. DVD companies put software on the disc to prevent the copies of copyright materials from being shared with others. The disc itself doesn't say in text it is protected, but it is embedded in media as a code. Only when you try to make a copy, you will know whether it is protected or not. Otherwise, you will need to use DVD encryption identification software to determine what's on it.
Identify DVD Encryption
Search on Google and visit a website that has a free program you can use to identify the DVD copy encryption on your DVD, there is an example – BurnOut.

1. Download and install BurnOut for free.
2. Launch the program and insert the DVD that has DVD encryption you'd like to identify.
3. Click on the drop-down menu and select your DVD drive when it begins.
4. Click "Search" and wait for a few seconds. The result will load automatically under the "Protection" heading. From there you will know what kind of encryption is used on your DVD.
Break DVD Encryption
After you identify what kind of DVD encryption is used, you will want to know how to break it. To break DVD copy protection, you need a DVD copy software package to help you remove copy protection. CloneDVD has the capability to remove all copy encryptions being used on your DVD.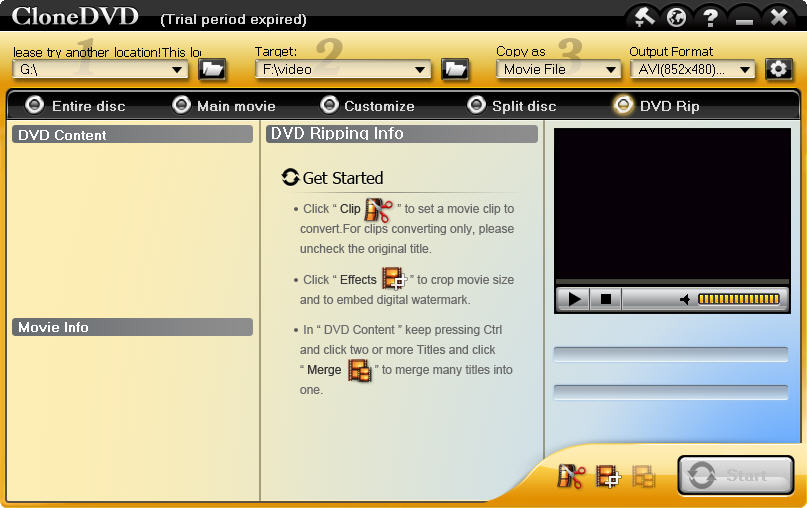 1. Download and install CloneDVD for free.
2. Run the program and insert the disk into DVD drive.
3. Finish all the settings, like output format, target, mode, audio & subtitle selection.
4. Start to break the encrypted protections.
Whether you select to copy the disc content to a blank one, or to movie file, ISO file onto the hard drive. The output file is free to use.