Though you have the option to download music files with lyrics or download music videos with both images and lyrics. There are chances that you would have separate music file like MP3, WMA files. Many of them have no synchronous lyrics. You can add favorite images or photos as background and add lyric for better viewing and listening.
Audio DVD Maker can import sounds, video, lyrics and static backgrounds from different formats, and then convert audio into DVD with titles, lyrics, backgrounds, further burn them onto a DVD.
Guide on How to Embed Image and Lyrics to Music Files
This audio DVD creator can convert all separate audio file (CD, MP3, WMA, WMV, etc) into DVD format. See the follwing steps and learn how to embed image and lyric to music files.
Step 1. Import Music Files
Run Audio DVD Maker. Go to Edit window to 

import music files from hard disk where the files are stored.
Step 2. Embed Images and Lyrics
Right click the file, select "edit a chapter" then a dialog box comes out. Browse to add image and lyric, and then set the lyric font and click "OK" to save changes. Repeat these actions until you finish all music files. You can preview the background image from the left area of interface.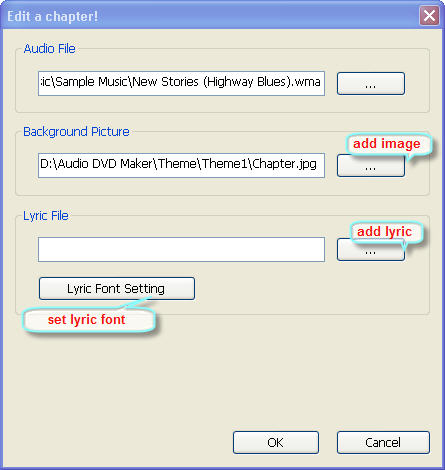 Step 3. Output
Choose output these audio files into DVD folder or burn them onto DVD disc.
DVD Folder: The DVD maker will create a DVD fracture folder and save onto computer hard disk.
DVD Burning: The DVD maker will burn a DVD directly. Just select burn engine and DVD burner, start "Create".