Entire Disc is a quick copy mode for you to backup DVD. You can copy all contents of the source DVD to a target disc. Either copy a DVD-5 to a DVD-5 or copy a DVD-9 to a DVD-9, the quality would be 100% remained. As long as CloneDVD has a built-in intelligent compress engine, it can compress and fit the source DVD into a small size target disc, such as compress a DVD-9 to a blank DVD-5. It also support to burn a DVD from a DVD folder stored on hard drive.
Entire Disc Guide
Follow the steps below to copy a whole DVD movie now.
Step 1. Startup CloneDVD
Startup CloneDVD, the main interface will appear. It has a simple interface with clear visible buttons.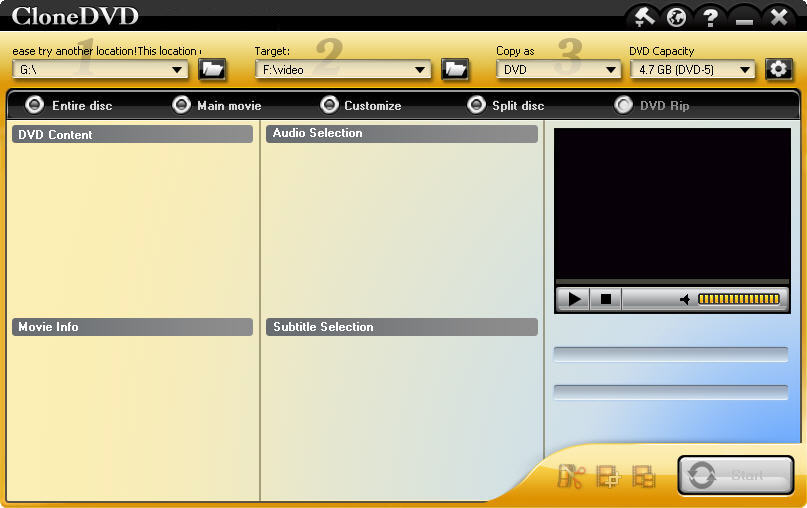 Step 2. Load source DVD
Please select Entire disc mode in the top navigation bar, insert your DVD disk to the DVD drive tray.
If you choose to burn a DVD from a file you already have on your hard drive, you need to click folder icon

to select the source files, remember your files should be standard DVD files. But here, we take DVD disc for example.
All the information of the disc will be displayed on its interface.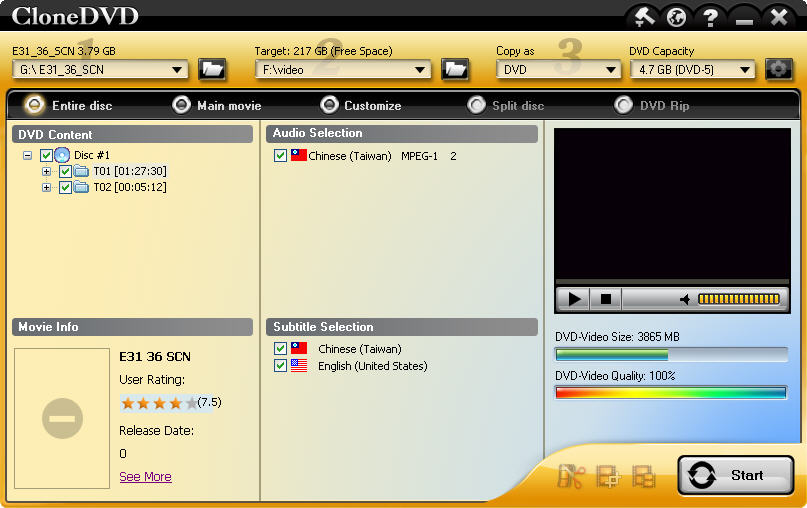 3. Do the target settings
If there is only one DVD drive, you need to set the same drive as the target. And specify target DVD disc size. Three options available: 4.7GB (DVD-5), 3.95 GB (DVD-R v1.0), 8.5 GB (DVD-9).
4. Audio & Subtitle selection
In this copy mode, you will not be allowed to remove any title or chapter, except the audio or subtitle. Choose your desired one or just leave it as default.
5. Start to copy
CloneDVD will copy to temporary hard disk folder first.
After copy finishes, please eject the original DVD disc and insert a blank DVD disc, then cancel the popup autoplay box and press "OK", CloneDVD will begin to burn to the blank disc.

If there are DVD-ROM and DVD±RW, just select DVD-ROM as source and DVD±RW as target, and you don't need to eject the original disc, CloneDVD will directly copy from source DVD to target DVD.