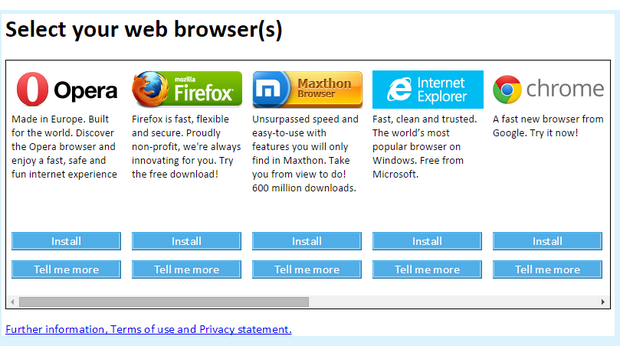 In theory, Microsoft needs to provide the browser choice to March 2016, but Microsoft Browser Choice update occurs following the instructions on the page: "According to a decision of the European Commission published in December 2009, Microsoft offers browser choice update. but the obligations specified in the decision has expired, so the browser choice update will no longer be pushed to new users. "this means that Microsoft can now revoke the browser choice window.
December 2009, Microsoft reached an agreement with the European Union, in order to resolve their web browser bundled with each other and their Windows PC operating systems. Under the agreement, Microsoft has agreed that in the five years since the time that allows Windows users to choose to use other competitor web browser.
However, after February 2012, within the European region Win7 system Microsoft no longer offers browser choice to continue bundling IE browser. The EU said that about 15 million Windows users do not see the browser choice window, a move that violates the EU agreement. Microsoft's explanation for this is that due to technical problems that exist in the software upgrade, Windows 7 SP1 and it did not appear in the browser selection window. But Microsoft still accepted EU antitrust regulators for its $ 732 million out hefty fines (equivalent to about 11% of Microsoft's global revenues), and after replied:
Due to a technical error caused the problem, we take full responsibility and apologize. We offer a complete, impartial analysis to the Commission. We have taken steps to strengthen our software development and other processes, to avoid similar mistakes from happening again.
In the past decade, Microsoft for breach of EU antitrust laws continue to suffer the punishment of the European Commission. Data show that in this fine before the European Commission has opened to Microsoft totaling about $ 2.2 billion in fines. Mainly because Microsoft failed to provide fair prices to competitors in accordance with the information, as well as its media player with its operating system bundled sales.
In the past decade, thanks to the bundled Windows system mode, IE browser market share was as high as 90%, while under the influence of the agreement reached between Microsoft and the European Union in 2009, according to market research firm StatCounter data show that in 2010 12 month, the European market share of Firefox 38.1%, IE market share of 37.5%, Google Chrome share of 14.6%, IE is the first time in major markets over other browsers. Now lift the European obligations, which means that Microsoft has finally no longer for competitors, especially Google Chrome browser and Mozilla Firefox browser advertise.
In addition, said that when the company is Google and Opera secret report, the EU found Microsoft's behavior did not fulfill the settlement agreement. A few days ago, in the wave of Microsoft, the company's efforts, Google search business was split in terms of the European Parliament. Hey, when the retribution.