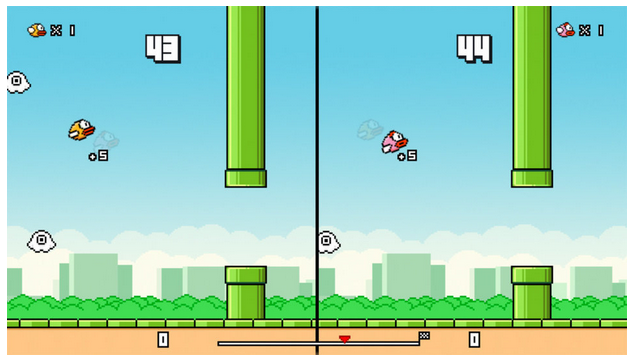 Flappy Bird return! Just name became Flappy Birds Family. Today, Flappy Bird developers Dong Nguyen in the amazon app store onlined the game Flappy Birds Family. But now the game has not login the App Store and Google Play.
Flappy Birds Family support Amazon Fire TV game, and added many new features, including support for double game mode, add more obstacles, the game difficulty unabated. Users can now directly using the remote control and the controller can Fire at Amazon on TV together with Family and friends play Flappy Birds Family.
Flappy Bird once the game is popular all over the world, it is also completely changed the lives of Nguyen, stand or fall of both: on the one hand, the application in advertising bring his $50000 a day, on the other hand, Nguyen think his personal life was disturbed. In February, Nguyen will Flappy Bird from the app store shelves, as for the reason, Nguyen said the Flappy Bird is a very easy to make people addicted to games to play, it has become a problem. In addition, Flappy Bird popular hot also caused him a lot of mental stress, destroyed his past simple quiet life. In order to solve these problems, the best way is to sold out the game.