Usually a graduation party will be held when we are going to graduate. In the party, we certainly will shoot some pictures and record some videos for our children. Few things evoke the past time better than a video of school life memories. A graduation video makes a perfect gift for the grown child. And also the guests will like to watch it too.
Make a Party Video from Photos
It is easy to get photos, no matter they were taken by vintage camera or digital camera.
Step 1. Select Photos
Before you start to pick photos, think about the theme and the result you want to get. A video on a graduation part will probably have a time limit of 8-10 minutes. Calculate the number of photos that you need and design the timeline of footage. For example, at 5 seconds per image, you need 12 photos per minute. Then screening out 18 or 22 years photos is also a huge project. At last, transfer or scan your images onto your laptop and place them in a photo album.
Step 2. Pick Background Music
Pick a proper song as background for the video. See the top 30 graduation songs for 2012 if you don't have any idea.
Step 3. Make Video Slideshow
After you have finished choosing photos and music, the project is almost coming to the end. Choosing the photos and music takes much, much longer than any technological video wizardry. So, you're almost done.
3.1 Run iPod Video Converter. Go to "Slideshow" window, import all the photos and rearrange the order.
3.2 Add title, credit, background music and special effect.  There are 12 effects for your choice, you can choose one or multiple at the same time, or choose all and let it randomly display.
3.3 Create video.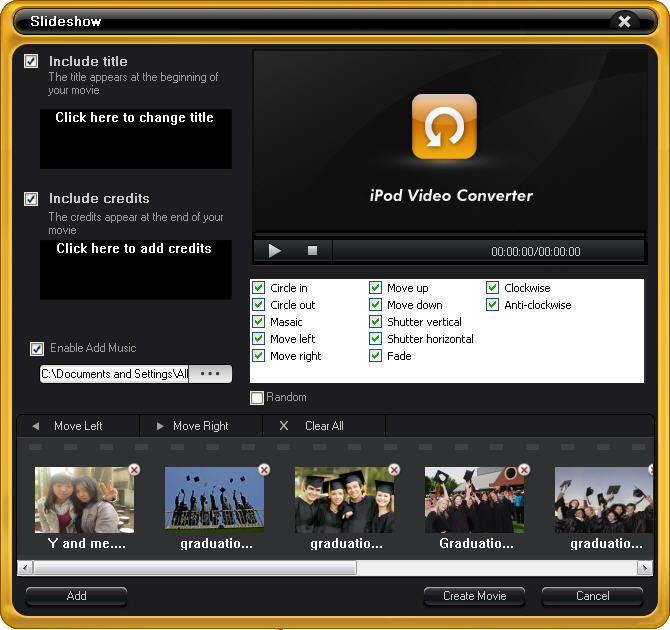 Make a Party Video from DV Records
You may have recorded all the details of graduation ceremony, school activities and happy time with classmates or friends.
Step 1. Import Videos
Load these videos to a tool that can edit and merge, such as iPod video converter or video converter.
Step 2. Edit Videos
You can clip, crop video frame, add watermark and even subtitle to make your video unique and awesome.
Step 3. Merge Videos into a Whole Movie
After that, click "Merge" to join these segments together and form a single video file.

You can also convert it to iPod family for easy enjoyment with iPod Video Converter. Or convert the graduation party video to other formats and devices with Video Converter Ultimate. They both are offered in ideal gifts for graduation season 2012.