At some point, you probably need to burn a DVD, whether it is a video file or a favorite movie. Well, movies are the most common things to store on DVDs. There are many programs that can burn DVD. This article will show you how to burn a DVD from DVD folder on hard disk, and walk you through the DVD burning process.
Get the Software
Personally I use CloneDVD for all things related to DVDs. I have been using it for quite a while and I'm completely satisfied with the features it offers. It can burn any DVD to a blank DVD, DVD structure file to a DVD or burn ISO file to a DVD that you can view on all standalone DVD players.
Get CloneDVD here (free trial version, 17.52MB)
After the then download is finished, launch the .exe file and install the DVD burning software. The installation is straightforward, just click "Next" and "OK" several times. At last, launch the program.
Start Burning DVD from Local Disk
Step 1. Load the DVD folder. Click "Browse" to select the DVD folder from your computer hard disk.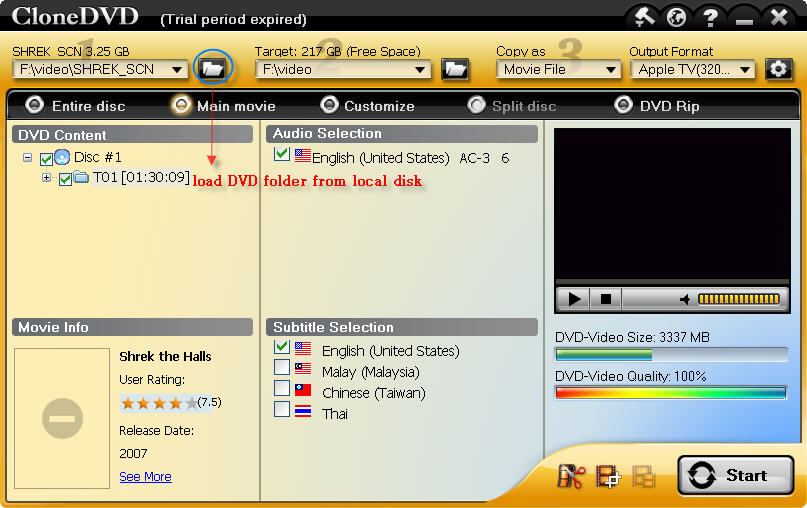 Step 2. Insert a blank DVD into the DVD drive.
Step 3. Set the DVD drive as destination.
Step 4. Select DVD as output format, and specify target DVD disc size.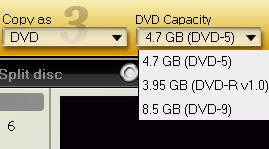 Step 5. Choose copy mode. There are three copy modes available.
Entire disc: copy the whole holder to a DVD
Main movie: keep the main movie by deleting the intro, menus, language and sound tracks
Customize: burn any chapter or chapters of a DVD folder.

Step 6. Start to burn. Click

button to begin the burning process.
Depending on the length of the movie, the speed of your computer, the burning can take a while. CloneDVD will eventually finish burning the DVD. Now you know how to burn a DVD and create video DVDs that can be played in any DVD player.