When we meet with wonderful Hollywood films or interesting film of the Disney animated films,we will not
hesitate to buy it home. Day after day and year after year, DVDs filled the entire cabinet or even half of the
room. Write the purpose of this article is not to let you throw away these DVD collection. The purpose of
this article is to remind you to protect your "property", because it has become an integral part of you. So,
We need to know that How to collect classic DVD movies.
As we know with the progress of era, some of the DVD player is no longer in production, some formats
already slowly be we rejected. When a year later, after two years or ten years later our DVD player is
broken or we need to watch DVDS on other devices, then what shall I do?
Whatever happened to make a backup all of your DVD is the best choice. Have you ever think about
how to backup your DVDs? Here, we introduce you to a DVD copy software - CloneDVD.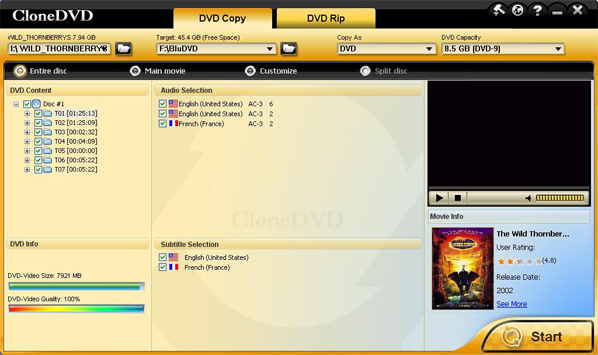 CloneDVD - Most Popular DVD Movies Copy Software
CloneDVD is the world best and easiest-to-use DVD copy software to copy/burn/rip/encrypt any
DVD movies by removing all existing DVD protections automatically.
CloneDVD supports to compress/shrink DVD9 to DVD 5, copy DVD9 to DVD9 and DVD5 to DVD5
perfectly, split or divide DVD9 into 2 DVD5 and even convert DVD to MP4, DVD to 3GP, DVD to AVI, etc.
Your DVD collection is quite an investment, one that needs an insurance policy. Discs get misplaced
or damaged, and sometimes borrowed movies never make it back to the shelves. So we need to know
that CloneDVD is how to copy DVD for us.
How to Copy DVD with CloneDVD?
To copy DVD to ISO image files:
Step 1. Download CloneDVD and install it.
Step 2. Import DVD to CloneDVD.
Step 3. Choose Copy as "DVD" as output format and choose an output folder to save the video
Step 4. Start to copy.
Only a few simple steps can reduce your worries.
To get it now: http://www.clonedvd.net