If you've got a bunch of MPEG video files in your PC and you want to play them on your iPhone or iPad, you will have to convert MPEG to MP4 files with a MPEG to MP4 video converter. If you have problems in importing your MPEG files to iPad, iPhone or some other devices for playback or to iMovie for editing, you might need to convert MPEG to MP4 because MP4 is the video format which is widely supported by Apple devices and iMovie. In this article, we will introduce some basic knowledge about MP4 and MPEG, and offer a step-by-step instruction of how to convert MPEG to MP4 with Aviosoft Video Converter.
There are a good number of advantages for you to convert MPEG to MP4 videos, because MP4 has a better balance between compression rate and video quality. Aviosoft Video Converter is going to add more to the advantages. Aviosoft Video Converter features a friendly using style and extra powerful features. Feel free to download Aviosoft MPEG to MP4 Video Converter and have a try.
How to Convert MPEG to MP4 with Aviosoft Video Converter Ultimate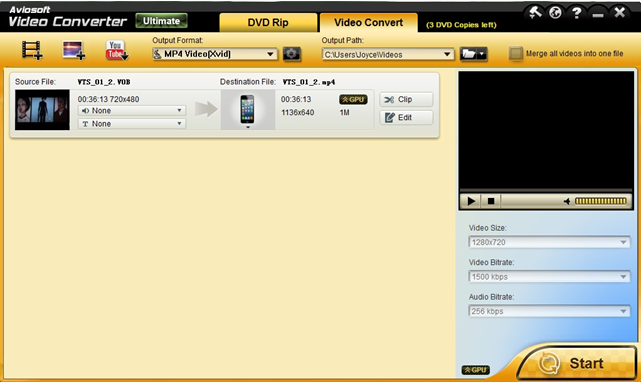 Step 1. Download and install Aviosoft Video Converter Ultimate
Step 2. Run the MPEG to MP4 Converter and add MPEG files
Step 3. Specify "Output Format" as MP4 or target Apple device
Step 4. Specify "Output Path" to preserve converted MPEG files
Step 5. Click "Start" to convert MPEG to MP4
Notice: If you want to make outstanding MP4 videos, this powerful MPEG to MP4 Video Converter also offers users the ability to personalize their videos. Users can clip videos and edit videos by adjusting brightness, hue, saturation, contrast, adding effect, watermark and subtitles, etc.
Extended Knowledge
MPEG: MPEG, short for the Motion Picture Experts Group, standards address audio and video formats used online, in television broadcasts, and in DVD media. MPEG is a common digital video format typically incorporates MPEG-1 or MPEG-2 audio and video compression. MPEG-1 is the video format that has had some extremely popular spin-offs and side products, most notably MP3 and Video CD. MPEG-2 is not a successor for MPEG-1, but an addition instead. MPEG-2 is used in digital TVs, DVD-Videos and in SVCDs.
MP4:
MP4 is short for Moving Picture Expert Group-4. MP4 is a container format that can store video, audio and subtitle data (as well as more depending on content) and allows you to combine different multimedia streams into one single file. This new technology is going to make video files decrease in size so that they are easier to work with and support. And it is used with iPod and PlayStation Portable (PSP), MP4 files have become more common.