In fact lot of DVD copy software offer for your choice, but in this decade, there are still so many people choose our CloneDVD 6.  To this you will ask why choose our CloneDVD 6?  The answer is the CloneDVD is a combination of DVD copy, DVD cloner, DVD burner, and DVD decrypter that can read, rearrange, and manipulate the content of a DVD to suit your needs.
Part A
In addition to its powerful functions easy to use also are the most important characteristics. Then, how to copy a DVD with CloneDVD 6? Let's do it step by step immediately!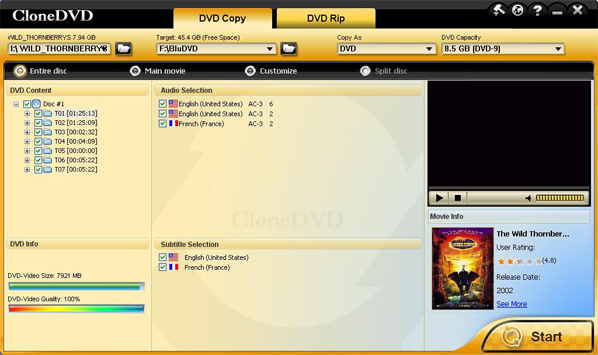 Step 1.
Install the CloneDVD 6 on your Windows computer. This CloneDVD 6 is compatible with all Windows operating systems, even including the newest Windowns 8. Launch it to enjoy its full functional free trial. Or, if you have a registry code, just register to unlock it.
Step 2.
When you running CloneDVD 6 it will automatically pop up the DVD driver then please insert the original DVD disc and select the DVD driver as a "Target" Folder. Normally you do not need to set any other options just click the "Start" button, CloneDVD 6 will automatically to help you to copy the original DVD disc to your PC. If you need to customize the DVD content  please go to Step 3,  or  you want to 1:1 to copy DVD to the blank disc please direct go to step 4.
Step 3.
CloneDVD 6 is support four models to copy a DVD. The four models include "Entire disc", "Main movie", "Customize" and "Split disc".  You can according to your need to make corresponding choice.
Step 4.
Click "Start" button.  CloneDVD 6 will automatically help you to copy the original DVD to your PC , then when it complete copy step it will pop up the DVD driver now you will need to inter a blank DVD then click "Continue" button it will start to burn the DVD.
Yes, only four steps you will complete a DVD copy with 1:1 quality.
Want to know that the other CloneDVD6 feature, please continue to pay attention to our CloneDVD blog