What's the difference between DVD+R and DVD-R?
DVD+R, 'DVD plus R" was created by the "DVD+RW Alliance". DVD+R discs are expensive in today's market, and are not burnable by 1st generation "plus-type" burners, which were designed only for the DVD+RW rewriteable discs. DVD+R cannot copy the descrambling codes found on DVD video discs, so commercial discs cannot easily be duplicated. DVD+R drives have recently reached the same maximum recording speeds as DVD-R drives. Once you write some data to +R disc, you can also add some more data later, again and again. but you can not erase the data once you written.
DVD-R was created by the DVD Forum.  The most common DVD-R is a write­-once 4.7gb "general purpose" disc, which is roughly equal to 120-minutes of standard playing lime. Once recorded, a DVD-R can be played on most home DVD players (Advertised as compatible with 90% home DVD players). General purpose DVD-R media is currently the cheapest & most common, and the newest DVD-R drives write at up to 4x.
How to copy DVD+R files to DVD-R disc?
It's super easy to copy DVD+R to DVD-R for backup purpose only if you use CloneDVD which can easily and quickly clone DVD+R to DVD-R. And the DVD-R disc can be played on all home DVD players and DVD drives. Below is the main interface.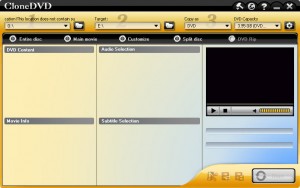 To copy DVD+R to DVD-R you need to click the mouse 5 times at most.
First insert your DVD+R disc into the DVD-ROM drive for CloneDVD decrypts and identifies the DVD.
Set a target folder to save the output files.
Choose DVD-R as output format.
Click Entire disc button.
Click "start" to copy DVD+R to DVD-R. Then you will see the process.
Do you want to free download CloneDVD and then use it to copy DVD+R movies to DVD-R disc? You can free download it at http://www.clonedvd.net/clonedvd/ where you can get more information about it as well. Using this software you can copy any DVD to DVD-R which can be playable on most all home DVD players and DVD drives.