Almost everyone has DVDs these days. They are smaller, have larger capacity, create a better quality image and sound and more. But have you ever heard of DVD copy protection? DVD copy protection, also known as copy restriction or copy prevention, is a technical measure designed to prevent duplication of information. DVD movies are usually copy protected, and DVDs are vulnerable to fire, scratches, dust, children and pets. Been wondering how to make a backup copy of those protected DVDs in case of fire, damage? Well, I'm going to tell you how to copy protected DVD to protect your investment.
Copying protected DVD is much easier than most people think if one has a good software program that is capable to make copies of protected DVDs. CloneDVD is the right software which is able to decrypt any DVD movies by removing all existing DVD protections automatically. Besides the DVD copy software, you also need at least DVD burner installed in your PC and blank DVD recordable disc.
Step-by-step guide on how to copy protected DVD:
1. Download CloneDVD, install and run it on Windows. Here is the main interface.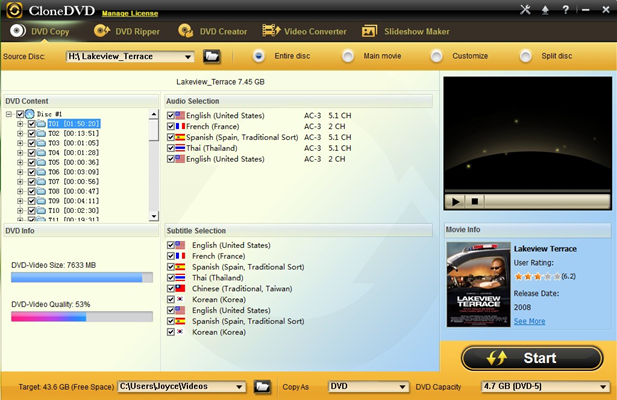 2. Insert original DVD disc into DVD±RW and cancel the popup autoplay menu.
3. Select the same DVD±RW as both source and destination.
4. Select DVD as output format and specify the target DVD disc size. There are three options available: 4.7GB (DVD-5), 3.95 GB (DVD-R v1.0), and 8.5 GB (DVD-9).
5. Choose a copy mode from the interface.
6. Click "Start" to copy to temporary hard disk folder first.
7. Burn to blank DVD. After finishes copying, eject the original disc and insert a blank disc, CloneDVD will auto burn.
If there are two drives (DVD-ROM and DVD±RW) on your PC, this can be done simultaneously as you make the copy. Just insert the original and blank discs at the same time and set DVD±RW as target, CloneDVD will auto begin to burn to target DVD disc. Then, you've got a back up copy of your favorite copy protected DVD! The decryption process is done automatically in the background.