Want to watch movies from all over the world, but we know that lots of DVD movies are protected, which set unwanted limitations to us and is inconvenient for us to enjoy them.
CloneDVD DVD Copy is the most powerful and flexible DVD Decrypter which can remove all DVD copy protections (like Remove CSS, CPPM, RC, RCE, APS, UOPs, ARccOS, RipGuard, etc…)cc, then we can do what we want to those unprotected DVDs. We can rip, copy, backup, clone, burn or convert them with CloneDVD, or just play them on the PC.
Next, let's focus on how to use CloneDVD DVD Copy model to decrypt DVD.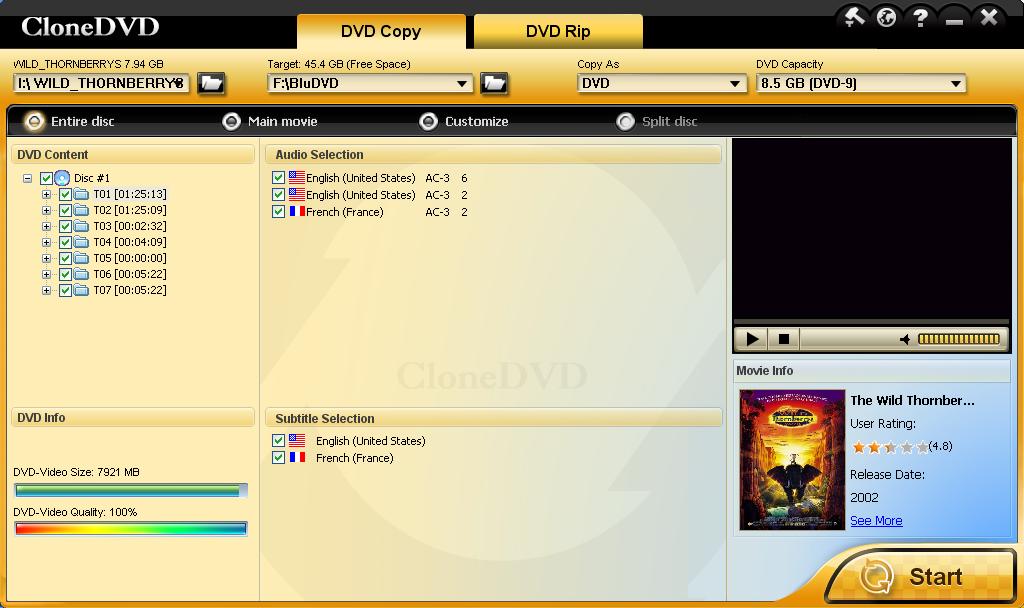 Decrypt DVD>Step 1: Install and run CloneDVD
Decrypt DVD>Step 2: Import the source DVD
Decrypt DVD>Step 3: Setting target directory
If you want to burn a DVD please select your DVD driver as target directory. If you only want to copy your DVD to your PC you can select a target folder as your target directory.
Decrypt DVD>Step 4: Setting "Copy as" option
Setting copy as DVD – CloneDVD will allow you to burn a DVD.
Setting copy as image (ISO) – CloneDVD will help you to copy your DVD and store in your computer.
Decrypt DVD>Step 5: Choose DVD Capacity
There are three options allow you to choose:
4.7 GB (DVD-5) (Default)
3.95 GB (DVD-R v1.0)
8.5 GB (DVD -9)
Decrypt DVD>Step 6: Start
As we can see CloneDVD can easy to help you to decrypt DVD. Without too much complicated setup you can enjoy the movie all over the world.