Want to rip your DVD movies to video or audio files in Windows Vista? DVD contains files playable on DVD players but not computers. Once you explored a DVD on your computer, you will see a VIDEO_TS and an AUDIO_TS folder which is included in most DVDs.
The AUDIO_TS folder is empty and the VIDEO_TS contains VOB, IFO, and BUP files. The .vob files are actually the .mpeg or video files and only these files contain video. If you don't have a DVD player installed on your Windows Vista computer, you can't play the .vob files.
Trick to Play VOB Files
There is a trick to play .vob files. Each file has an extension. We can not use a file if there is no corresponding software installed in our computer. Sometimes, if we change the file extension to another one, maybe it can be opened.
Change File Extension
1. Copy the .vob files to a folder on your hard drive.
2. Change the file extension to .mpg. Note: Don't change the file name, just change the extension.
3. Play it with a media player.
This can't guarantee the successful working of the .vob files, it depends the codec you have installed in your computer. But in most cases, it works.
Solution to Solve the Problem
If the above trick doesn't work, there is another solution which can solve the problem – rip DVD in Windows Vista. Using a DVD ripping tool, convert DVD to AVI, MP4, etc, these more compatible formats.
Rip DVD in Windows Vista
1. Download a DVD ripping program, install it on Windows Vista.
2. Load the DVD. Launch the program and insert the DVD into DVD drive.
3. Output settings. Choose copy as "Movie File", "Common Video – > AVI". Select a folder to save output videos.
4. Choose a copy mode.
5. Start to rip DVD in Windows Vista.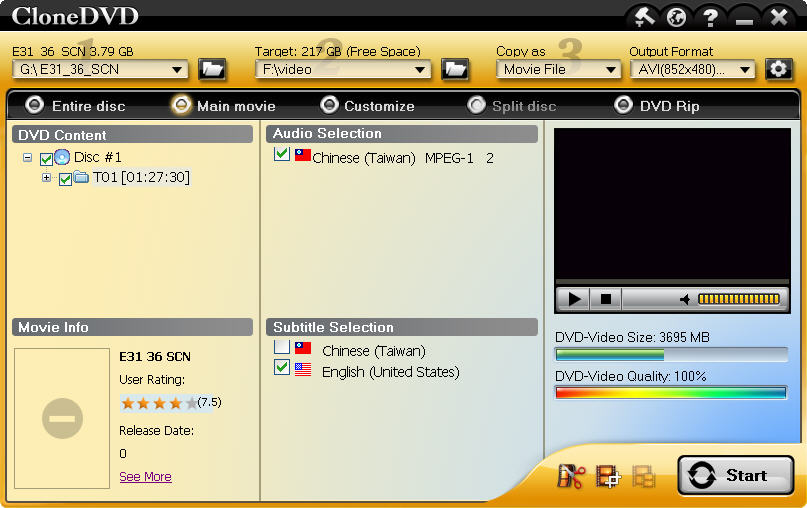 That's all for ripping DVD. If you are interested in this DVD ripping software, please visit: CloneDVD.