How to rip your media DVDs to your hard drive? Do you want to play them without replace discs and
without interruptions? Are you looking for an easy and flexible way to rip your DVDs? Then, with
CloneDVD for Mobile you will can watch movie any time, any where.
The below is step-by-step guide to show you how to use CloneDVD for Mobile to rip your protected or
unprotected DVDs with a few clicks.
Rip DVD - Step 1: Run CloneDVD for Mobile
Install and run CloneDVD for Mobile. Insert DVD disc to open the source. You don't need to specify
the DVD disc's region code, it will automatic decrypte.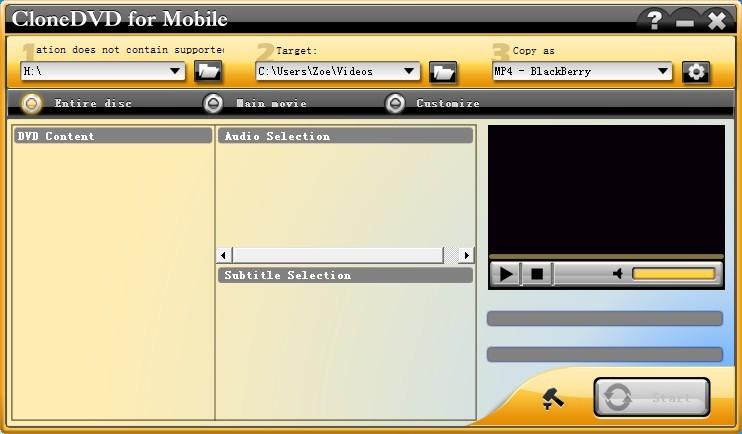 Rip DVD - Step 2: Setting target folder
Select a folder as target folder
Rip DVD - Step 3: Select output format and device
Drop down "Copy as " option and select output format and device. In the "Copy as" option right side you can click the
setting button to setting output type.
There are multiple output type on the upper part of the General interface for you to select according to your needs.
Such as Hight quality, Good quality, standard quality and  customized.
Rip DVD - Step 4: Click "Start" button
Please click "Start" button, CloneDVD for mobile will automatic to rip your DVD.
And CloneDVD for mobile lets you overview the ripping progress for your convenience.
Wait until the ripping process completed. After the message "Process Completed Successfully" shows up,
press "OK" to finish.
Done. Easy, isn't it? All the above is just the tip of CloneDVD for Mobile, just try it out to have a wonderful
experience in rip DVD. If you want to convert DVD into videos, you just need to learn more about DVD Ripper.