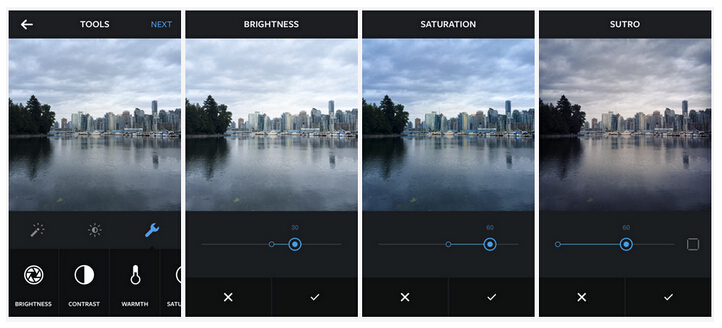 Competition among Photo editing applications becomes fierce, Instagram 18 filters seems not enough. Instagram released V6.0, iOS and android both available. In the new version, users can adjust the intensity of the filter at will and the additional 10 filter were added to help users modify pictures for more details.
Instagram 6.0 brings users more freedom, which allows users to adjust the brightness, contrast, warm/cool color chroma, saturation, highlights and shadows, gradient, sharp, etc. Only need to click the "wrench" button in the edit page, you can begin the adjustment. Each dimension can be divided into 100 points, and you can choose appropriate filter intensity based on personal needs. When completes, you can touch your pictures softly to check the contrast effect before and after edition.
This update is the first time Instagram provides customers with advanced editing tools, and this is not uncommon in other applications. In future, Instagram may need to grasp the user needs, and the more important is find a solution to integrate the iOS 8 and to be adaptable .IOS 8 released yesterday increased application in communication, and improved the ductility. Apple shows how to use the camera to have photos, and then seamlessly into VSCO Cam editor. If possible, Instagram also plans to go this move – take pictures with other applications, return Instagram for editing, then share with a click.