According to the KGI analyst Ming-Chi Kuo Apple is planning to equip every 2014 iPhone and iPad – iPhone 6, iPad Air 2 and the retina display-loaded iPad Mini with Touch ID while the Japan Unix laser welding equipment will be applied to manufacturing.
Kuo says Apple will evolve the raw materials components of Touch ID to improve its durability. For the manufacturing process, Taiwan Semiconductor Manufacturing Co. one of APAC partner of Apple will take the responsibility of manufacturing the Touch ID. Other two companies, ,XinTec and WLCSP will take charge of redistribution layer services and the ASE is responsible for packing.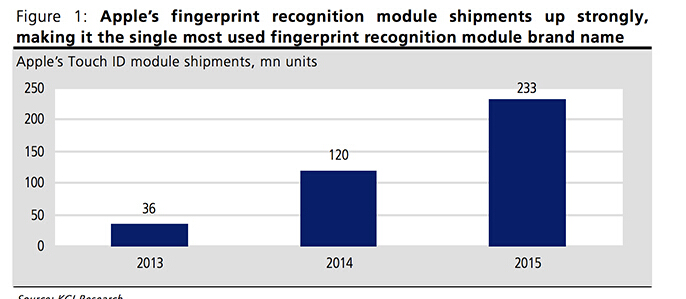 KGI holds a positive attitude to the sale of ios equipments. And it predicts that the shipment of Touch ID will be swiftly increase from 36 million in 3013 to 1.2 billion in 2014 with an increase rate of 233% compared with last year and will keep increasing to 2.33 billion in 2015 with an increase rate of 94% compared with 2014.