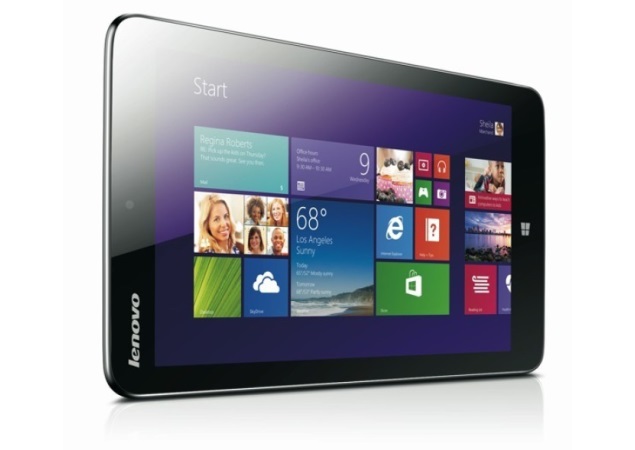 Want the functionality of a laptop with the speed and ease of a tablet? Don't we all. Lenovo has taken another pass at that very Windows 8 dream. It's called the Miix 2, and it looks promising for its raw power alone. The Lenovo Miix 2 is essentially a tablet loaded with the full version of Microsoft's OS (Windows 8.1, to be exact). It comes with its own custom dock that gives it a full keyboard plus some extra ports. We had our qualms about the original Miix, last year's Lenovo IdeaPad Miix 10. It also docked using a magnet, but was burdened by Windows RT and sluggish Intel Atom performance.
This new Miix 2 seems to have been dealt a better hand, as RT has been swept under the rug and the Bay Trail chip is restoring faith in Intel's tablet capabilities. Like the new Lenovo Yoga 2, the Miix 2 comes two sizes, with the smaller 10-inch model packing the Bay Trail Atom processor and the 11-inch getting up to an i5 Haswell chipset. The thought of an i5 in this compact form factor has my curiosity plenty piqued. I got an early peak at both models at CES 2014, but consumers will be able to play with them as soon as March for the 10-inch and April for the 11-inch. They'll start at $499 and $699, respectively.
Lenovo machines deserve their reputation for stellar keyboards and fine track pads. While I enjoyed the size of the Miix 2′s keyboard and the spacing of its chiclet keys was fine, the key presses lacked depth. This is nothing new in the keyboard dock game. If you've used one of Lenovo's Yoga machines before then you know about stand mode, where the keyboard tucks behind the monitor. The Miix 2 has this same functionality, turning it into a purely a touch machine. As usual, it seemed like a nice way to watch movies. It same thing many iOS fans do with their iPads, standing them up for poking and prodding or watching a movie.
Along the base of the stand is a wide speaker grill and a subwoofer, according to Lenovo. We couldn't really give it a proper test over the show floor din, but we'll definitely be putting it head to head with an iPad Air's speaker in out full review. Lenovo rates both machines for eight hours of battery. That'll probably depend on which configuration you choose though. The 10-inch combo is only two pounds, while 11-inch is just shy of three. The Lenovo Miix 2 has internals that really intrigued me. It's also compact, light and attractive. Still, I have a hard time imagining a detachable in my life. Then again, I've never been an iPad and keyboard dock kind of guy, and that seems to be Lenovo's target here. If the Microsoft Surface 2 is what you want, but the price is too rich, this could be your machine..
Related Source
Review of Samsung 105-inch curved Ultra HD 4K TV>>>
Four Things You Didn't Know Your Tablet Could Do>>>
LG Chromebase>>>