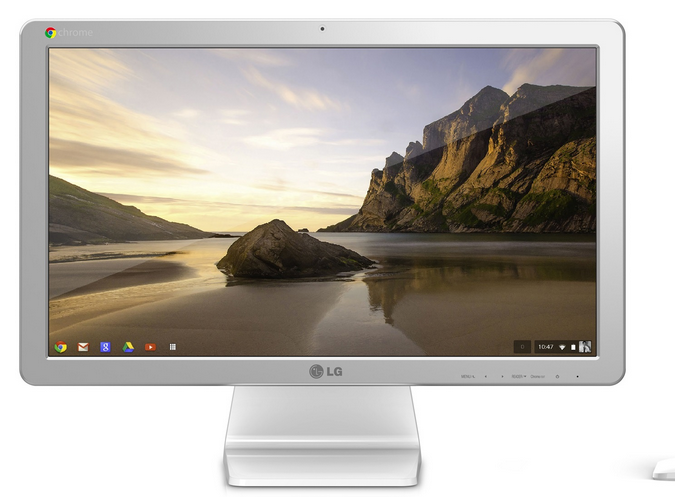 The LG Chromebase (just like home base) is an all-in-one system Chrome OS system that looks something like an iMac. It comes in black and white. As usual, the internals are nothing special, except for a 16GB iSSD, which is more high-speed storage then you usually find on one of these Google OS machines.
Watching YouTube videos is a big part of the web, and Chrome OS, experience. LG knows it and put a 21.5-inch widescreen full HD IPS display on the Chromebase. The resolution is a respectable 1920 x 1080 with wide viewing angles and sharp color. The built in 5 watt speakers were hard to hear over the din of the show floor, so I can't really judge them until we have a review unit in a nice, quiet room. Inside, the Chromebase packs an Intel Celeron CPU, 2GB of RAM and those 16GB of solid-state storage I mentioned. I'm glad that LG has opted for an HDMI-in and a USB 3.0 port. There are two additional USB 2.0 ports and an Ethernet port. The Chromebase is Hangout ready with a 720p webcam.
The only thing I actually disliked about the Chromebase was its keyboard. Getting back to my library comment, this one felt like it been kicking around in public computer lab for ages. The keys felt loose and rather shallow – not the kind of thing I want to use for banging out endless Google Docs. The mouse was better, with a comfortable feel and smooth scroll wheel. It still looked a whole lot like the kind of nondescript peripheral you'd get with a Gateway or Dell from 1999, but performed just fine.
Price is going to determine everything with the LG Chromebase. The hardwire is solid, especially that display. It's no Chromebook Pixel screen, but it'll be great for some YouTube and Netflix. It's just that the Chrome OS is inherently limited, at least until Google adds more offline features, that you can only ask so much for this sort of machine. Surely LG knows that though. The only true liability here is that keyboard. If you're considering the Chromebase for your office or to have something for the kids to do homework on, consider picking up a better set of keys.
Related News
CES 2014 – What to Expect from the Biggest Tech Show>>>
CES 2014 – What to Expect from the Biggest Tech Show of the Year>>>
Latest News and Reviews from the CES 2014>>>
Review of Samsung 105-inch curved Ultra HD 4K TV>>>