Want to make a special audio DVD that includes your favorite songs, so that you can play it in your car stereo and enjoy on the move? Well, you need an audio DVD authoring tool which can rip audio files from video or convert audio files to DVD format and burn them onto a DVD disc.
Aviosoft Audio DVD Maker is a useful tool that can convert all separate audio file (CD, MP3, WMA, WMV, etc) into DVD format; rip all audio track from video file with audio contained in. With this small utility, you can personalize your own music DVD.
How to Burn Audio DVD?
Burning an audio DVD with media files on your computer is very easy. Just follow the steps below to get started.
Step 1. Collect the source material
Collect the files that you want, multiple audio tracks, several video clips that contain your favorite music, etc.
Step 2. Run Audio DVD Maker
Download and install the DVD authoring tool on a Windows computer. Launch it after successful installation.
Step 3. Import Files
Click "Edit" to enter the edit window. Press "Import File" button to import your sources, audio files, video files. Add more files as you want, you can see the total size from the bottom.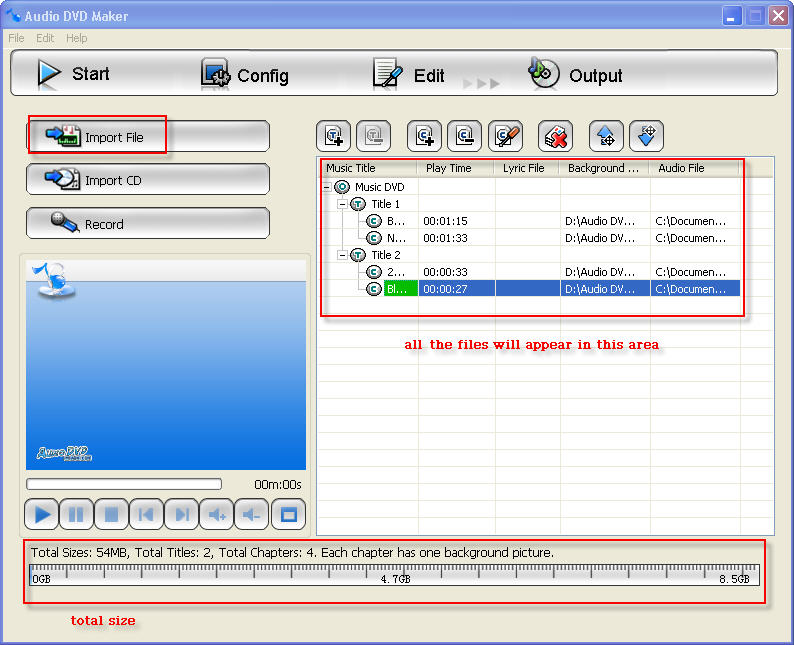 Step 4. Other Settings
1)      Go to "Config", type a project name. Select a default background, there are three default menus and there background pictures for your choice. Of course, you can use your own one by right clicking the song and choosing "Edit a chapter" to import a picture from your hard disk. Choose audio sample rate, TV mode, display mode, aspect ratio as needed.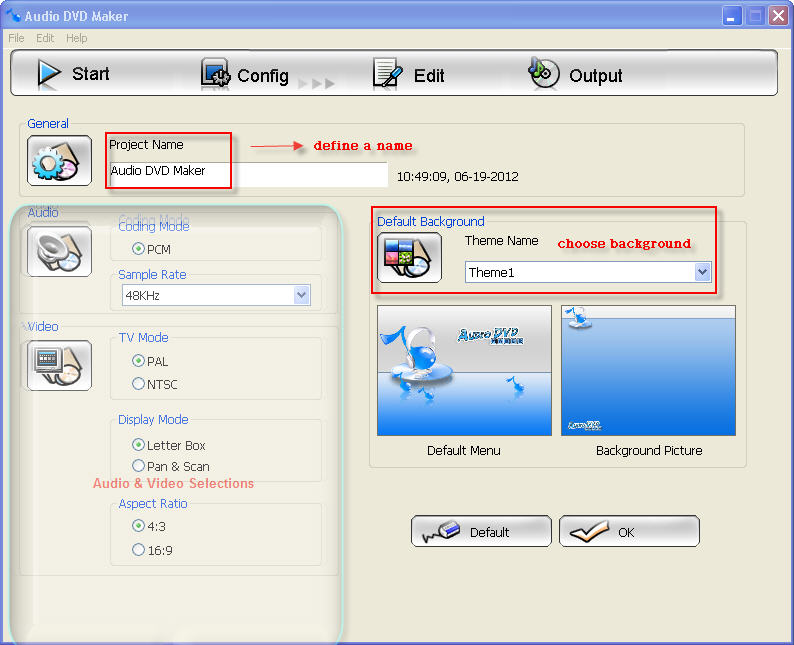 2)      Set output. Choose the "Output Type", here we choose DVD burning since we need to burn a DVD disc. Make sure you have a DVD burner installed in your computer. Select burn engine and DVD burner in "DVD Burning" area.
Step 5. Start Burning an Audio DVD
After all settings finish, load a blank DVD disc, click "Create" button, you will burn the media files into DVD disc. The default working directory is "C:\Audio DVD Maker". If the disc is not blank, please "Erase" it first.