"I've got a DVD of West Life's concert. I want to rip a clip from the DVD and put it on my iPad because I like their show of You Raise Me Up. How can I achieve it?" My friend Melody called me yesterday to ask for help. Fortunately I know how to do that and she successfully got what she wants by following my trick.
Some people may have come up against similar issues, such as they need to choose DVD clips to rip, then share them on YouTube, Facebook or other purpose of use. There is an easy way by using Aviosoft DVD to iPad Converter. It can not only rip DVD clips but also can add effects on the clipped videos. You may follow the below guide to learn how to rip DVD clips for iPad.
Guide on How to Rip DVD Clips for iPad
To get started, we have to download the latest version of the DVD to iPad Converter, install it.
Step 1. Load DVD
After launching the converter, insert the DVD into DVD drive. Aviosoft DVD to iPad Converter will automatically detect the DVD, and list all the titles by default.
Step 2. Edit DVD
1)   First, choose "DVD Rip" mode, you can see simple instructions under on "DVD Ripping Info".
2)   Click the Clip
menu, a preview window will pop out. In this preview window, you can click the Play button to start previewing the title; you can also drag the slider to a particular location.
3)   To choose a clip, please first drag the slider to the start point; click the 

button to set the start point. Then, drag the slider to the end point and click the 

button to set the end point; click "OK". Until now, you have got a DVD clip.
4)   Crop: click Effect 

button to crop the frame to make it suitable for iPad. Drag the red point to remove black bars.
5)   Watermark: input text to watermark your clip. Drag the text to change position.
The DVD clip will appear in the "DVD Ripping Info" area.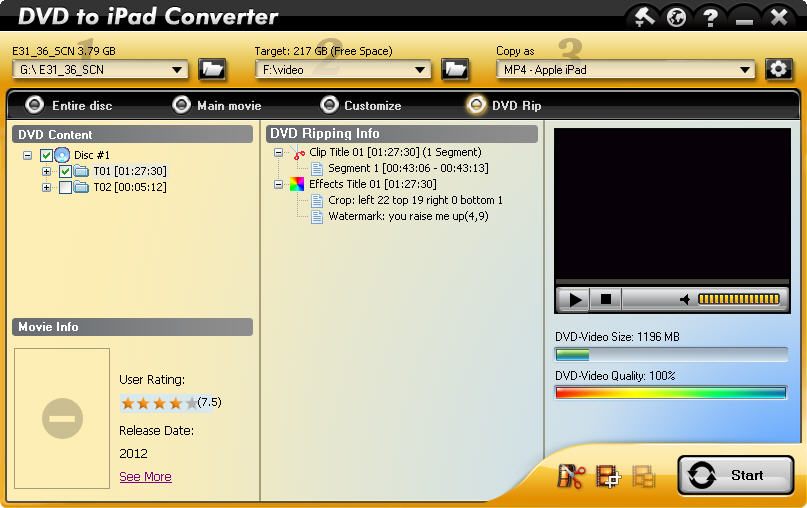 Step 3. Convert to iPad
Finally, choose the DVD clip and click "Start" button to begin the DVD clip to iPad conversion. The program will rip the clips you choose one by one. After ripping, you can transfer the ripped files to your iPad for easy enjoyment.