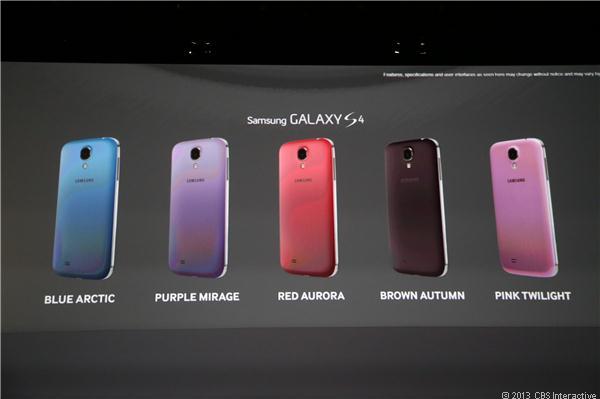 The Samsung Galaxy S4 is an Android smartphone produced by Samsung Electronics. First unveiled on March 14, 2013 at Samsung Mobile Unpacked in New York City, it is a successor to the Galaxy S III which maintains a similar design, but with upgraded hardware and an increased focus on software features that take advantage of its hardware capabilities—such as the ability to detect when a finger is hovered over the screen, and expanded eye tracking functionality (which includes scrolling). A hardware variant of the S4 also became the first smartphone to support the emerging LTE Advanced mobile network standard.
The S4 was made available in late April 2013 on 327 carries in 155 countries. Upon its release, it became the fastest selling smartphone in Samsung's history; The S4 reached 10 million pre-orders from retailers in the first two weeks after its announcement. In the United States, this prompted Samsung to announce that due to larger than expected demand, the roll out of devices on U.S. carriers Sprint and T-Mobile would be slower than expected. The S4 sold 4 million in 4 days and 10 million in 27 days making it the fastest selling smartphone in Samsung's history and the fastest selling Android device in history. The Samsung Galaxy S III sold 4 million units in 21 days, the Samsung Galaxy S II took 55 days and the Samsung Galaxy S took 85 days. Samsung shipped more than 20 million S4 smartphones by June 30, which is around 1.7 times faster than the Galaxy S III. As of October 23, 2013, Samsung has sold over 40 million S4 units six months after release.
Technology journalist Walt Mossberg described the S4 as "a good phone, just not a great one". Mossberg wrote "while I admire some of its features, overall, it isn't a game-changer." Mossberg criticized the software as "especially weak" and "often gimmicky, duplicative of standard Android apps, or, in some cases, only intermittently functional." He urged readers to "consider the more polished-looking, and quite capable, HTC One, rather than defaulting to the latest Samsung." Consumer Reports named the S4 as the top smartphone as of May 2013 due to its screen quality, multitasking support, and built-in IR blaster.
Despite only using about 1 GB more than the S III, critics noted that about half of the internal storage on the S4′s 16 GB model was taken up by its system software; leaving only 8.5 to 9.15 GB for the storage of downloaded apps (some of which cannot be moved to the SD card) and other data. Samsung initially stated that the space was required for the S4′s new features, but following a report regarding the issue on the BBC series Watchdog, Samsung stated that it would review the possibility of optimizing the S4′s operating system to use less local drive space in a future update. Storage optimizations were brought in an update first released in June 2013, which frees 80 MB of internal storage, and restores the ability to move apps to the device's SD card.