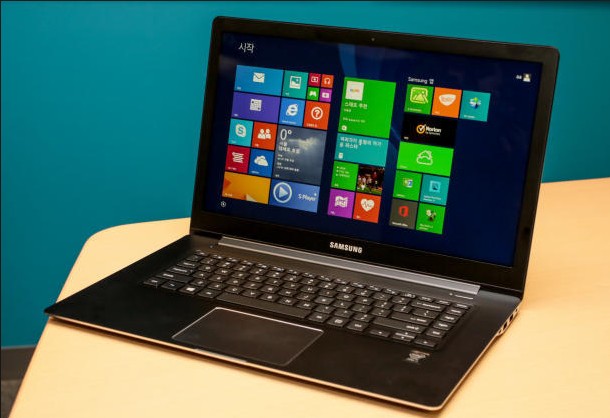 Samsung doesn't need to do too much to hold its position as one of the premiere laptop makers, but it went ahead and did it anyway. Take the ATIV Book 9 Plus, for instance: For CES 2014, Samsung bumped things up and knocked specs down in its effort to hit the ultimate sweet spot in a new form factor. The result? Dropping the "Plus" in its name, Samsung kept the same sleek, cobalt aluminum finish of its svelte 13-inch ultrabook. The company also squeezed another 0.6 inches out of its display, bumping it up to a 15.6-inch touch panel. However, the company knocked the Book 9′s resolution down a peg from last year's 3200 x 1800 to a more standard 1920 x 1080.
This is partly how Samsung can claim 14 hours of battery life on the Book 9, an impressive feat in endurance. Inside, you'll find dual-core Intel Core i5 or i7 chips (Haswell, natch) with Intel HD Graphics 4400 and 8GB of RAM. As for storage, you have a choice between 128GB (for Core i5) and 256GB (for Core i7) solid-state drives. Samsung managed to come in at just 4 pounds while increasing the Book 9′s size, making it lighter and larger than Apple's standard-setting 15-inch MacBook Pro. Sure, Samsung had to make one large conceit to get there, but more on that later.
The Samsung ATIV Book 9 for 2014 isn't a mind blowing revolution on the previous model, but it's the smaller changes that make it an exciting rig. Coming in lighter than its main competitor and bumping up screen size is certainly no small feat for Samsung. And thanks to the size increase, Samsung was able to recess the keyboard deck for extra comfort and a more nuanced design. Three USB ports (with two being 3.0), HDMI out, mini VGA, an SD card reader and 720p webcam sweeten the deal. And frankly, I'll take a hit in display resolution if it means a whopping 14 hours of battery life. With stylish details like chamfered edges and an all-aluminum body, you should expect to pay a premium, though Samsung has been mum on pricing. What you can expect is to see the ATIV Book 9 2014 to drop sometime in the middle of, well, 2014.
Related Source
CES 2014 – What to Expect from the Biggest Tech Show>>>
CES 2014 – What to Expect from the Biggest Tech Show of the Year>>>
Latest News and Reviews from the CES 2014>>>
Review of Samsung 105-inch curved Ultra HD 4K TV>>>