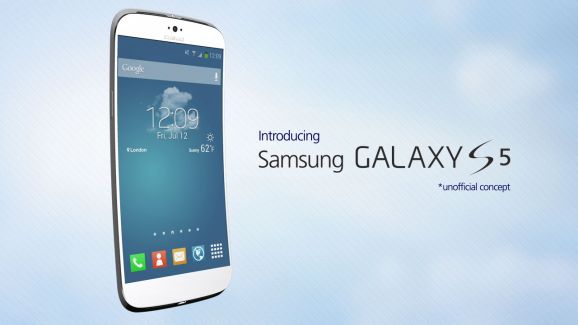 The Samsung Galaxy S4 is old news. Sure, it's a great smartphone – as you'll see in our in-depth review – but now all eyes are firmly locked on the Samsung Galaxy S5. Now that we're almost certain to be seeing the phone during MWC 2014, all eyes are on what's actually going to emerge from behind Samsung's veil of secrecy – the good news for you, dear reader, is that we've trawled the web, examined all the rumors, and refined them to bring you a pretty good idea about what's going to emerge.
All the big smartphone manufacturers are relatively entrenched in annual product an cycle now, which means we can usually predict when they will launch their headlining products. Early rumors pegged Samsung as bringing the Galaxy S5 launch forward to February after the S4 failed to sell as many as predicted – this could also be due to the company being reportedly told to scale down its launches and make Android more of a star of the phone by Google. And now that looks relatively certain after Samsung sent out a teasing invite for its "Unpacked 5″ event on February 24 – and it's that "5″ which has caught everyone's attention – that means the Galaxy S5, right?
The 'toned down' nature of the launch is more likely too, after the New York Times reported that Samsung was going to lose the theatrics for the next launch of its handset – something which would make a lot of us very happy after the awful 'Broadway' unveil for the S4. In terms of price there's no point hoping that Samsung might offer the Galaxy S5 at a more competitive rate than its predecessors. It will be crammed full of new tech and thus will carry a price tag which will see it sit right at the top of pricing tree – SamMobile has gone as far as to claim it'll set you back €800 (around £542, $888, AU$983). If it does bring an aluminium chassis, curved display and more, then we can see the price sky-rocketing. Time to start saving?
So you're already thinking about the Galaxy S5. You're looking at the S4 and wondering: "Could Samsung have done better in some areas? Like make it FLY?" Well, clearly you're insane if you're asking that, but your point is valid: there's always more than can be done to make the ultimate smartphone. Word is that Samsung is already hard at work on the design of the new range of devices: simply codenamed 'Design 3.0′ top level meetings have already begun in Seoul to make sure the new Galaxy range is more revolutionary.