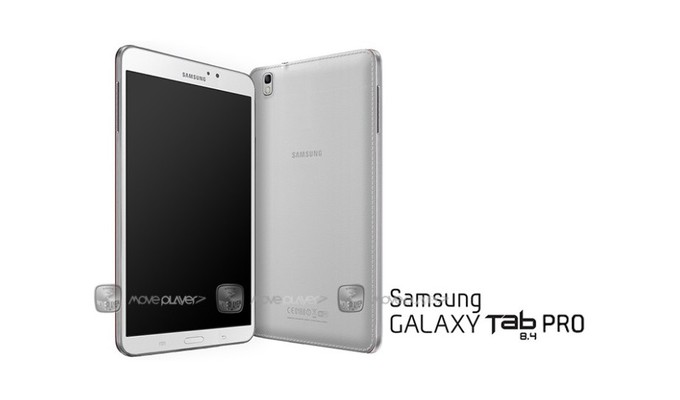 The difference between the Galaxy Tab Pro 12.2 and Note Pro 12.2 comes down to one very fine point – a pointy stylus S pen. Whereas Samsung's newest and largest Note includes the plastic-feeling S Pen and handy Air Command functionality, the Tab Pro sticks with a touch-based interface. That actually makes the 12.2-inch screen all the more important, especially for someone who intends to focus on productivity and doesn't want their fingers to wander into bezel territory all of the time. The remaining specs are exactly the same between the two new 12-inch tablets. It really comes down to whether or not you're a touch person or a touch and pen person.
While the large screen is the highlight of this Samsung tablet, the remaining specs are impressive too. The Galaxy Tab Pro 12.2 packs an Exynos 5 Octa for the WiFi and 3G models. This chip runs a combo of quadcore processor of 1.9GHz and 1.3 GHz. Opting for the faster speeds of the LTE model leaves you with the less exciting Samsung 800 2.3GHz quadcore processor configuration. And here's the good news: as you go down in screen size, the spec list doesn't diminish. While this is an impressive feat of engineering at the 8.4-inch level, it's even more breath-taking when you watch video or browse the web. It's 'only' 359PPI, but on a tablet it looks similar to how we feel when stuffed in front of a fancy 4K TV.
Like a lot of Samsung devices, the Pro range is going to be region-specific, so the choice unfortunately isn't yours to make. Luckily, all regions receive the healthy 3GB of data that allows Multi Window to keep up to four apps running all at once. The back of the Galaxy Tab Pro is either white or black depending on your color choice and is sports a rear camera that snaps 8-megapixel photos. Auto-focus, an LED flash and zero shutter lag are all part of the Samsung's camera software. In the front, a 2-megapixel camera brings video conferencing to these business-friendly tablets.
Sadly, that white or black is still the same faux-leather-and-stitching effect that we first saw on the Note 3. This does make it more grippable, but looking at it makes us still cringe. It's a feature that we can understand to a degree, but come on Samsung – you can do better than this. The three tablets are actually quite distinct thanks to their varying screen sizes – the same specs inside means consumers finally have a genuine choice to work with. We were taken with the Tab Pro 8.4, as it works really well in both portrait and landscape modes and is pretty easy to hold in the hand. The 10.1 feels a little lackluster in some ways, thanks to being neither the whopping device of the 12.2 nor the compact 8.4.
It's hard to say truly what makes this a pro range though – without a keyboard, it's just a set of impressive specs, some security software and a bunch of subscriptions to ripple through. The stylus-compatible Note 12.2 has some great drawing capabilities and the same specs, but it's likely to cost more than the touchscreen-only Tab 12.2 as a result. That being said, the official Samsung Galaxy Tab Pro prices haven't been announced, even though we were able to play around with the hardware of both tablets. Samsung should divulge pricing information soon. It plans to start rolling out its new tablets within the next three months.
Related Source
2014 Cool Gadgets – Most Anticipated New Phones and Tablets>>>
Samsung ATIV Book 9 2014 Edition>>>
Samsung Galaxy Note 10.1 2014 Edition Tablet Review>>>