Shareaholic again released a Web Browser Share Report date from September 2013 to April 2014; the report is based on over 200,000 publishers visiting its network and its more than 250 million users, finally, after analysis, and four important findings as followed:
1. Google Chrome still dominates, but Safari grows significantly
Over the past eight months, the market share of Google Chrome has remained fairly stable at ~35%, while the Apple browser's share increased 5% to reach 26% (Safari and Safari in-app the built-in ios web browser included). Its excellent performance thanks to the strong iPhone sales.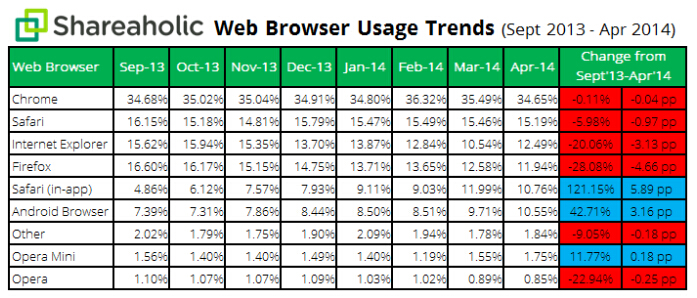 2. "Safari in-app and the stock Android browsers were the only ones with significant growth
" Safari in-app gets a whopping growth rate at 121.15%, which possess the 10.76% of the share. The stock Android browser increased steadily with a rate of 42.71%, possessing 10.55%. The stock Android browser grows at this speed will challenge the Firefox and Internet Explorer for a coveted "top 4″ spot on the list for most used browser. The growth of "Safari in-app browser and the stock Android browser confirms we are indeed an increasingly mobile society.
3. More than half of the browsers under track and investigation have trended down
More than half of the browsers under track and investigation were in decline, among which the IE and Firefox declined mostly; the former one shrunk 20.06% over the past eight months, its share shrunk to 12.49%, while the share of the later one shrunk 28.08%, has a share of 11.94%.
4. Opera cannibalized its own market share
Even though the mobile market-oriented Opera Mini is one of the three browsers whose usage shares grew, to some degree, the growth came at a cost to the market share once held by its desktop browser. The share of Opera Mini increased by 0.18%, but the share of its desktop browser shrunk 0.25%, which in fact leads to a total loss of 0.07% in its overall market share.