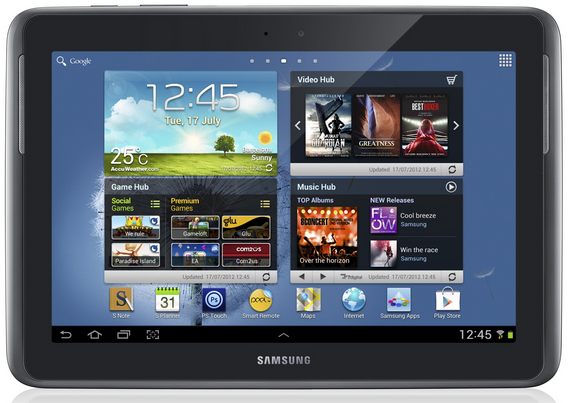 Taking a page from the auto industry, Samsung named its new Galaxy Note 10.1 for the coming year, dubbing it the 2014 edition. And, judging from what we've seen of the new Note so far, it's clear Samsung has greatly improved upon many of the original's shortcomings; it even added more storage space! Unfortunately, though, Samsung also boosted the base price by $50 as a result. So how does it hold up? Does the new Note 10.1 trick us into believing it came from the future, or is it too easy to look through Sammy's "futuristic" marketing campaign? Gaze into the article with us to find out.
Note: Want to play your favorite DVD movies on your Samsung Galaxy Note 10.1? Try CloneDVD 7 Ultimate, which can help you easily rip DVD to iPhone/iPad/HTC/Samsung, copy DVD without limitation, burn MP4/AVI/MOV to DVD, make photo slideshows, and convert MOV to AVI, MP4 to MOV, etc.
Compared with the old generations, the new Samsung Galaxy Note 10.1 2014 Edition sheds the chrome bezel that previously adorned each side of the tablet, so the new slate, which measures at  243.1 x 171.4 x 7.9 mm (9.57 x 6.75 x 0.31 in.), is shorter, narrower and thinner. Not only does this make the 2014 edition look sleeker; the lack of big chrome lips means the front is also less distracting — a nice consideration that lets us focus on that beautiful display. Additionally, at 19.05 ounces (535g), the tablet is lighter than the first Note 10.1 and the Nexus 10, which tip the scales at 21.16 ounces (600g) and 21.27 ounces (603g), respectively. This, combined with its overall size, makes this model much easier to handle.
Samsung also added a touch of elegance to the back of the device by swapping out the standard glossy plastic back. Here instead, we have a soft, textured "leather-like" material that's meant to resemble a leather book cover. Happily, it does a good job masking fingerprints, and it makes for a sturdier grip too. (The "leather" stretches across the back uninterrupted; on the first edition, the rear cover was broken up by a band of chrome along the top.) And Samsung confirmed that the back cover is actually comprised of polycarbonate. Still, it feels better-made than most of Samsung's earlier tablets.
Related Source
The World's Largest – Samsung's 110-inch Ultra HDTV opened Sales on Monday