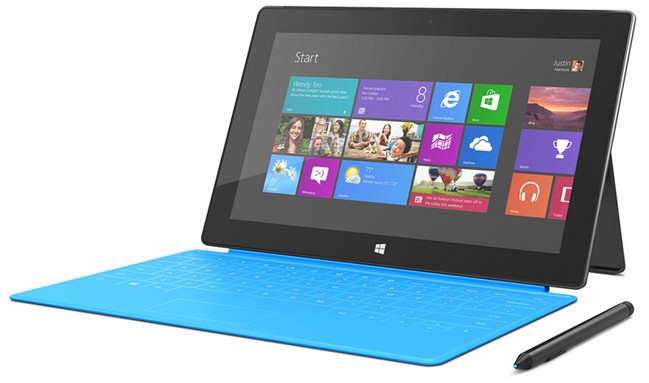 With unsold stock of the original Surface RT burning a billion-dollar hole in Microsoft's finances, the company needs to make amends. Enter the new Surface Pro 2 and Surface 2 models, which boost the specifications, extend battery life and give Microsoft a fighting chance of avoiding another expensive write-down. While the two first-generation Surface models were peas in a pod physically, they've now gone their separate ways. Both new models are fitted with a dual-position kickstand, addressing one of our chief complaints with the original, fixed-position models, which were too upright to use comfortably on your lap. However, this is where the similarities end.
The Surface Pro 2 – the full-fat tablet running Windows 8.1 – has an almost identical build to its predecessor; only a new Surface logo on the rear distinguishes it from the original Surface Pro. As such, it remains a lightweight pseudo-laptop when used with a keyboard (see Keyboards and dock, p41), but a hefty, 920g device to hold in the hand as a tablet. The ARM-based Surface 2, on the other hand, has been redesigned – note that the contaminated RT brand has been sidelined by Microsoft – and is marginally slimmer and lighter than its predecessor. It weighs 654g – almost 200g more than Apple's iPad Air  – and sports a silver livery, distinguishing it from the gun-metal black of the Pro.
The big difference for the Surface 2 is the screen, which now matches the Pro's 10.1in Full HD resolution. It's a notable bump from the 1366 x 768 display on the Surface RT, and our colorimeter reported a stark contrast ratio of 899:1, a healthy peak brightness of 414cd/m2 and a near-perfect Delta E of 3.2. This confirms what one glance at either screen will tell you: the display is top-notch, with the primary colours of the Start screen tiles almost popping off the screen. In fact, no device we've come across makes the Windows 8.1 Start screen look more appealing. It's a shame that a few regular x86 desktop apps, such as Google Chrome and Adobe Photoshop, aren't optimised for high-DPI screens, since this makes text look blurry and icons and onscreen menus annoyingly small.
Despite the Surface 2's exterior overhaul, it's what's inside that makes the difference to both tablets. The Surface Pro 2 packs a 1.6GHz Intel Core i5-4200U, which Turbo Boosts to 2.6GHz when required. However, its fourth-generation Haswell architecture does nothing to boost performance over its Ivy Bridge predecessor: an overall score of 0.61 in our Real World Benchmarks is actually marginally lower than that of the original.
It does, however, extend the battery life considerably. A full day's work was beyond the original Surface Pro, which managed only 5hrs 52mins in our light-use battery test. The Surface Pro 2 is built of sterner stuff: in the same test, it lasted for 9hrs 15mins, despite packing exactly the same 42Wh battery as its predecessor. This means it's likely to survive a working day away from the mains, unlike the original Pro, which would barely make it past lunchtime. The Surface 2 also gets an upgrade – from a 1.3GHz quad-core Tegra 3 to a 1.7GHz quad-core Tegra 4. Here, you do feel a performance benefit. The general sluggishness in 3D games and dual-screen multitasking that beset the Surface RT has largely disappeared, which is impressive considering the Surface 2 is throwing more pixels around the screen than its predecessor. More to read>>>