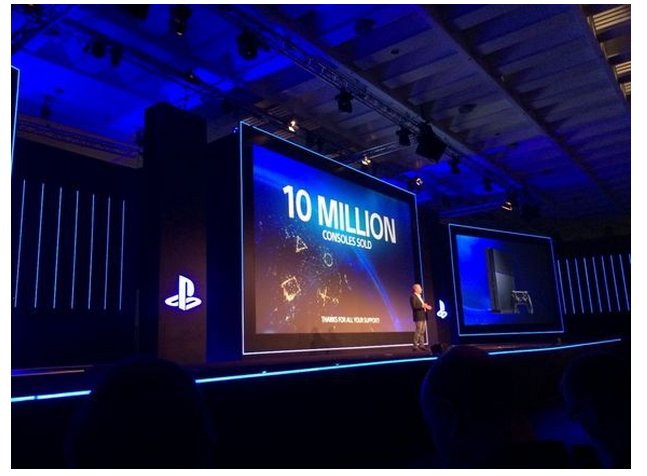 SONY today announced on Gamescom fair game, as to August 10, PlayStation 4 global sales hit the 10 million mark has become a SONY history "the fastest sales, sales is the most fierce" game player. SONY made clear that the sales of 10 million units is not shipped, but actually sold to the number of game players.
In February this year sales of the PlayStation 4 is 5.3 million. This suggests that in the past six months, sales of the PlayStation 4 nearly doubled.
SONY's PlayStation 4 and Microsoft's Xbox One time is at the same time to open the sale at the end of 2013. Since the sale, the PlayStation 4 sales momentum has been better than the Xbox One. In the US market, for example, data display, except in December, the PlayStation 4 in every month sales higher than that of the Xbox One.
SONY said at a meeting in the second quarter of this year's earnings, SONY sold 3.5 million PlayStation 3 in the second quarter of this year and PlayStation 4 games, most of which are the PlayStation 4. In the same period, Microsoft sold 1.1 million Xbox One and Xbox 360 consoles. Although the two companies was not announced each console sales alone, but from the 3.5 million and 1.1 million this set of data, the proportion of sales of the Xbox and PlayStation 4 One about 3:1.
The sales of the PlayStation 4 is better than the Xbox One, the price is a major factor. The PlayStation 4 price than the Xbox One lower of $100.On the sales under the pressure, Microsoft's recently launched a $399 to access the Xbox One, with its $100 cheaper than the previous version, price and the PlayStation 4 flat, make the PlayStation 4 no longer has a price advantage.
In the aspect of software sales, as of August 10, SONY has sold 30 million copies of entity version of the game and pay to download games.