With the development of science and technology, it is possible for people to take moves with them on the go with advanced tablets, smart phones, and portable media players, which are accessible to a movie library with the latest new release through which consumers can buy or download movie. However, if you have some old DVD movie classics and want to play them on your iPhone4s, iPad Mini or Blackberry, then how to deal with it? Here is a perfect solution: DVD ripping software can solve this problem by allowing you to extract a movie from DVD and convert it to a format that you can watch on a mobile device. This article lists three DVD ripping products.
Xilisoft DVD Ripper
Having problems with watching DVD movies on your iPod, PSP, or mobile phone because of compatibility issues? Xilisoft DVD Ripper helps you rip and convert home DVD to various formats for you to enjoy at your fingertips! Fast and easy-to-use, it can convert DVDs to AVI, MPEG, WMV, DivX, MP4, H.264/MPEG-4 AVC, RM, MOV, XviD, and 3GP video formats, as well as popular audio formats. Xilisoft DVD Ripper features a range of versatile editing tools, giving you the ability to clip a video, split a video into segments, and merge several of them into one. You may also crop the video frame, adjust image effects, add watermarks/subtitles/soundtracks to videos, and do much more. Xilisoft DVD Ripper's support for multithreading, NVIDIA CUDA and ATI APP technology delivers a 5X faster performance in home DVD ripping.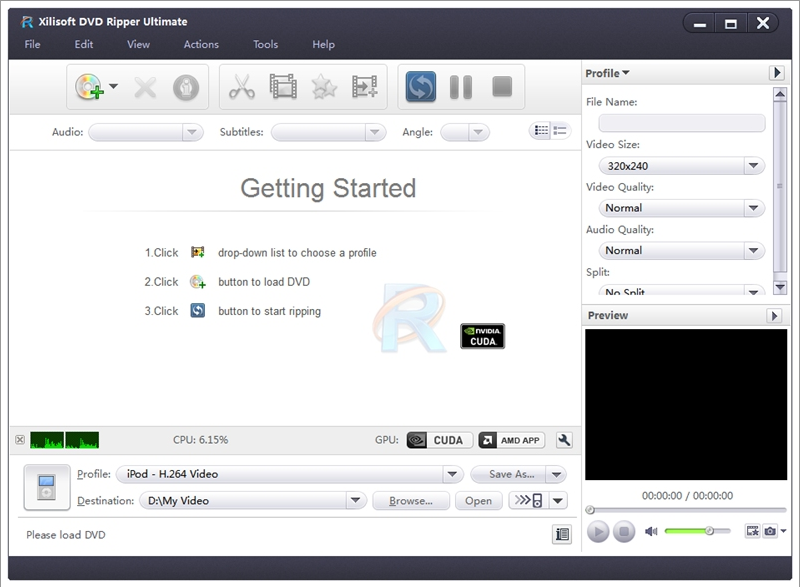 Xilisoft DVD Ripper comes in three different editions. The Standard Edition costs $39.95 and should be adequate for most users. The Platinum edition ($49.95) and the Ultimate edition ($59.95) contain additional features which are primarily related to video editing (such as cropping a video or adding a water mark).
CloneDVD for Mobile
CloneDVD for Mobile offers the easiest way to convert your DVD movies quickly to 3GP, MP4, AVI, ASF, WMV, etc. that can be played by portable devices including iPad, iPhone, iPod, PSP, Nokia, Android, HTC, Archos, MP4 players and more. Want to make sophisticated movies? You are in the right place. This DVD to mobile ripper software enables you to trim, crop, merge, add watermark or subtitle, adjust video playback effects, flip or rotate for perfect movie enjoyments on the go! CloneDVD for Mobile sells at $49.95 .

DVD Shrink
DVD Shrink is a handy (and free) utility for anyone who wants to create a backup copy of a DVD movie. Whereas most of the DVD rippers that have been discussed focus on extracting video from a DVD and converting it to a format that is playable on a mobile device, DVD Shrink seeks only to copy content from a DVD to a DVDR. In doing so, DVD Shrink is able to reduce the size of the content so that it will fit on a recordable DVD, hence the name DVD Shrink.