We've picked out the top enhancements in Windows 8.1 along with some quotes from Leblond about each one.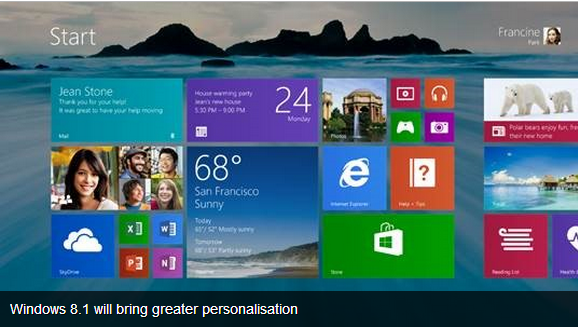 1. Different tile sizes
As in Windows Phone 8, the Windows 8.1 Start screen features a variety of tile sizes including a new large and new small tile. It's also even easier to name groups and rearrange tiles, says Leblond: "We found people were accidentally moving tiles on their Start screen so in Windows 8.1, you press and hold (or right click) to move things around."
You can even have large double-size tiles (check the weather in the picture above) but apps need to be written specifically to take advantage of this.
2. Aggregated search
Instead of having to select an app and then search when you go to the Search charm, Bing now powers an aggregated search system from the web, your files, SkyDrive and elsewhere. Leblond says: "We think this will really change the way you interact with the Web and with Windows making it quicker and easier to get things done. It is the modern version of the command line! Results from local files, apps, and settings are easily accessed in the same convenient view by scrolling to the left."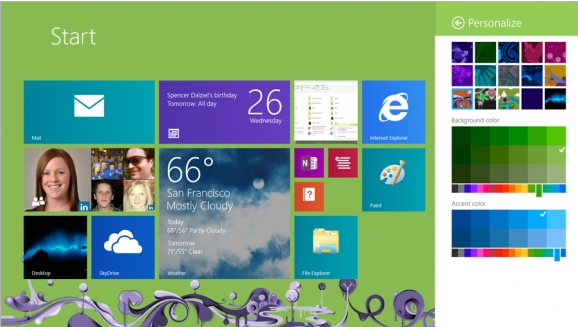 3. Enhanced apps
New app enhancements are also coming to all the built-in apps like Mail and Xbox Music, while there are new apps for food and fitness and there is a 'modern' version of Office that's set to launch. The Photos app now has some new editing features that let you quickly edit or adjust photos when you view them in the Photos app or open them from other places like the Mail, SkyDrive, and Camera apps – you can now create Photosynth panoramas directly within the app.
4. More snap views
If, like us, you use Windows 8 a lot, you'll have been frustrated by the lack of 50:50 split snap views. This is the game-changer for Windows 8 apps. "You will have more ways to see multiple apps on the screen at the same time," says Leblond. "You can resize apps to any size you want, share the screen between two apps, or have up to three apps on each screen if you have a multiple displays connected, you can have different Windows Store apps running on all the displays at the same time and the Start Screen can stay open on one monitor (yes!).This is one of the fundamental changes in Windows 8.1 and makes multi-tasking and multi-monitor use a lot easier.