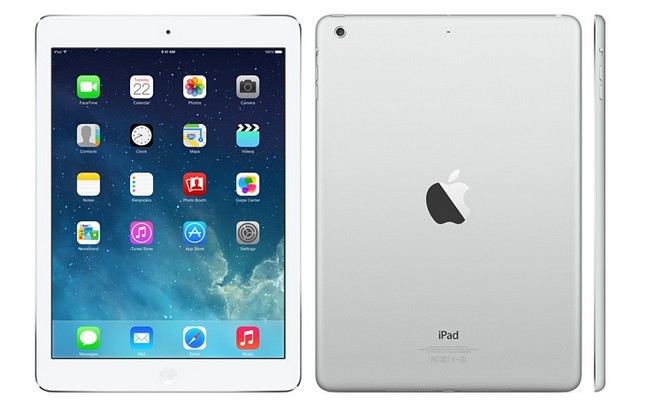 The iPad Air is the fifth generation iPad tablet computer designed, developed and marketed by Apple Inc. It was announced on October 22, 2013 and was released in space gray and silver colors on November 1, 2013. The iPad Air features a thinner design with similarities to the iPad Mini, along with using the same 64-bit Apple A7 processor with M7 coprocessor. The iPad Air was announced during a keynote at the Yerba Buena Center for the Arts on October 22, 2013. The theme of the keynote was named 'We still have a lot to cover.
The iPad Air marks the first major design change for the iPad since the iPad 2; it now has a thinner design that is 7.5 millimeters thick and has a smaller screen bezel similar to the iPad Mini. Apple reduced the overall volume for the iPad Air by using thinner components resulting in a 22% reduction in weight over the iPad 2. Though it still uses the same 9.7-inch Retina Display as the previous iPad model, an improved front-facing camera makes using Face Time much clearer. The new front facing camera is capable of video in 720p HD, includes face detection, and backside illumination. The rear camera received an upgrade as well; now being called the iSight camera, in addition to the same functions as the front camera it also contains a 5MP CMOS, hybrid IR filter and a fixed ƒ/2.4 aperture.
As with previous generations, Apple continued to use recyclable materials. The enclosure of the iPad Air is milled from a solid block of aluminium making it 100% recyclable. The iPad Air is also free of harmful materials such as BFRs and PVC. The iPad Air inherits hardware components from the iPhone 5S, such as its 64-bit Apple A7 system-on-chip and Apple M7 motion processor. The A7 present in the iPad Air is slightly different however, in that it does not use a PoP design which stacks the RAM on top of the SoC. It also features a metal heat spreader to compensate for the slightly faster clock speed and better thermal management. The Air also includes a 5 megapixel rear-facing camera, a FaceTime HD front-facing camera, support for 802.11n, and an estimated 10 hours of battery life. It boots faster than any previous iPad model.