I've got a bunch of .AVI files in my PC and I want to play them on my newly-bought iPhone 5s, but it does not support AVI files. Is there any way to encode these .AVI files into QuickTime MOV? – From Yahoo Answer
It is common for people to get some files in AVI format, either from the internet, digital cameras or shared from friends who use Windows. Or you may have a number of AVI movies in your collection that you'd like to playback on your iOS device, like iPhone, iPad or iPod. However, disappointingly, AVI videos can't recognized by QuickTime and by default it only plays certain video formats. Under such circumstance, you badly need a reliable AVI to MOV Converter to convert AVI files to MOV or other iOS and Mac OS compatible formats.
No matter you want to convert AVI to MOV file or transfer the QuickTime MOV to AVI file, you need a third-party media conversion tool. Here we humbly recommend you CloneDVD Studio Video Converter – - a nice little program that can convert back and forth from most type of video/audio formats at blazing speeds while keeping good quality. If you are running a Mac computer, you may refer to CloneDVD Studio Video Converter for Mac.
How to convert AVI to MOV file on Windows
Step 1. Download and install CloneDVD Studio Video Converter
Step 2. Run CloneDVD Video Converter and add AVI files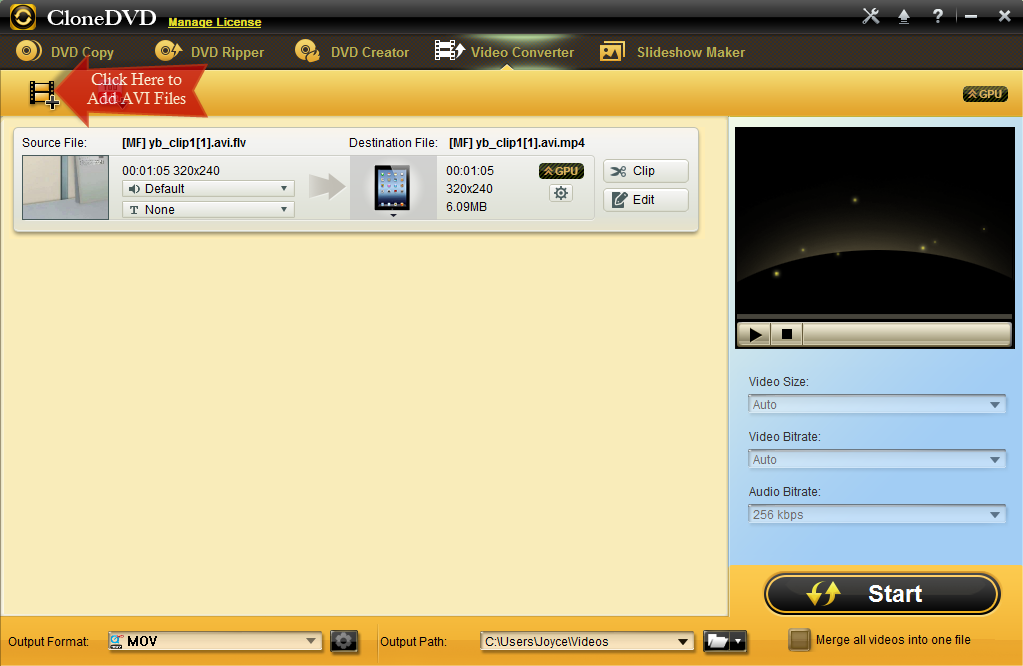 Step 3. Specify "Output Format" as MOV and select the folder to preserve converted videos by clicking the drop-list of the "Output Path".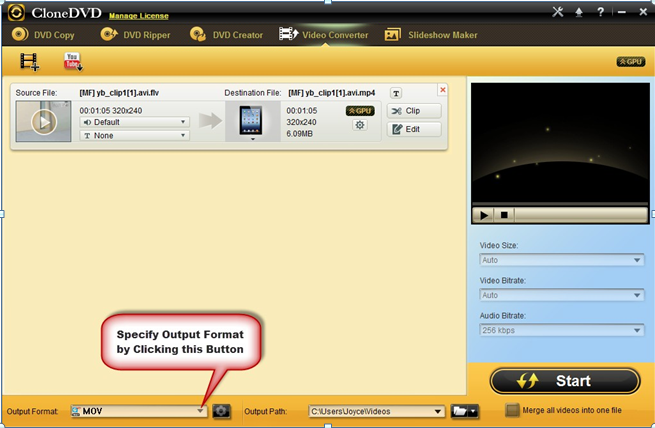 Step 4. Click "Start" to convert AVI to MOV files. After Conversion, you will get the MOV Video Files.
Tutorials and Guides Related to AVI Video Conversion
convert AVI to DVD movies
convert AVI to iPhone supported video formats like MP4
how to convert AVI to mkv without quality loss on Win/Mac
Extended Knowledge
AVI
AVI stands for Audio Video Interleave. Files of this format have an .avi extension. Developed by Microsoft in 1992, it has become so widespread that many people consider it the de-facto standard for storing video and audio information on PC. AVI combines audio and video into a single file in a standard container to allow simultaneous playback. Its advantage is a simple architecture, due to which AVI runs on a number of different systems like Windows, Mac, Linux, and UNIX and is supported by all of the most popular web-browsers.
MOV
The MOV file format is most commonly associated with Apple and the QuickTime video clip. The file format was developed by Apple as was QuickTime Player; it is compatible with both the Microsoft and Mac OS platforms. MOV files are capable of storing two or more tracks, which can be video, audio, text, graphics or effects. This flexibility makes this file format very popular for music and video editing.