The information era is a fast-paced world crammed with advertisements and also full of rubbish info people essentially do not need. Billboards and handbills scattered here and there. Sometimes you even crash with lots of ads and commercials before watching DVD. These tedious and boring ads inside almost every DVD movies are really annoying. Is there any solution? Of course, it is. You are recommended to copy the main title of DVD movie only, which is simple yet effective. In fact, there are many advantages of DVD Main Movie copy. The most important merits can be summarized into two major points: time-saving and space-conserving.
Time Savor– Save your time in both movie watching and DVD conversion. By copying the main movie title, you can have your DVD movies copied only within 5-7 minutes which saves about 10 minutes for you to copy a single DVD disc. And it also allows you to get rid of the advertisement attached with the DVD movies.
Space Conserver – Save PC and Portable Device space for storing more DVD videos. A complete D5 requires about 4.7G free space to either in case of backing up DVD to ISO image file, copying DVD main title only needs 4-4.5G free space. Just imagine, what will happen if copying 10 DVDs?
How to Fast Get Rid of Extras in DVD – Copy Main DVD Title Only
Here DVD Copy launched by CloneDVD Studio is designed specifically for DVD main title copy. Now get it and follow the guide below to begin removing the unwanted parts of DVD movies.
Step 1. After download and install the program on your PC, run it. And meanwhile, import the source DVD disc in your optical PC drive.
Step 2. Run the program, you will see there are four copy types listed on the tool bar at the top of the program's main interface. Then choose the "Main Movie" type.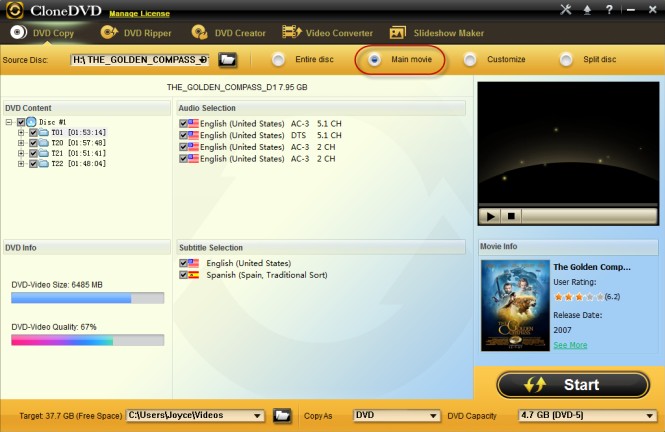 Step 3. Choose the place to save the converted DVD movie files in your computer by "Browse".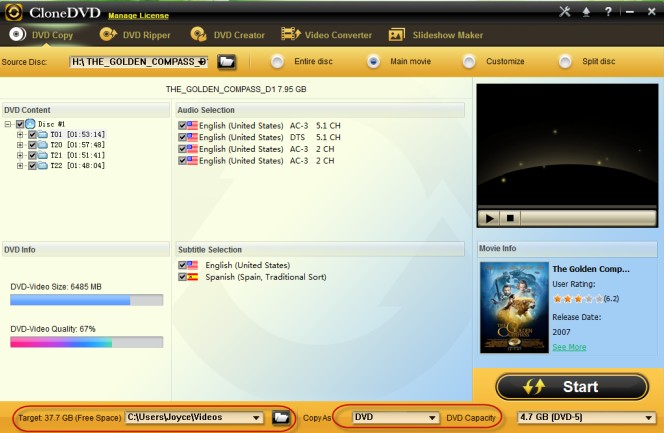 Step 4. Hit "Start" button to start getting rid of the extras in DVD.
Hot Search: Copy Protected DVD, DVD Decrypter, DVD to MP4, DVD to MOV, DVD to iTunes