How to rip / convert DVD to Multi-track MPEG2 file to play Mpeg2 format movies on HTPC? Now HTPC to a wide range of popular and accepted by the public and has sold on the major online e-commerce sites such as amazon. This article will guide you how to rip/convert DVD to Multi-track MPEG2 file to play MPEG2 on HTPC.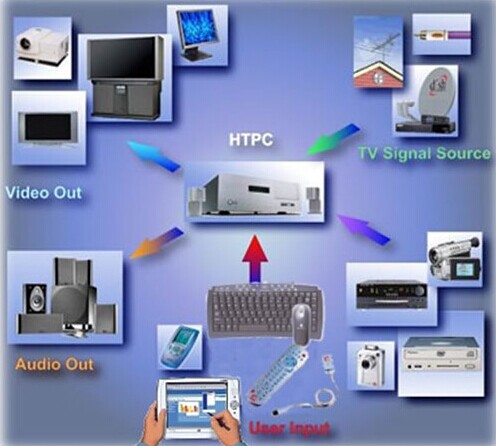 About HTPC
HTPC (Home Theater Personal Computer), for PC configuration principle, low noise (who also don't want to listen to music, watching movies, humming beside), and wireless equipment operation, such as mouse and keyboard wireless remote control. That is, Home Theater PC. Is the computer ACTS as a signal source and the control of home theater, which is a pre-loaded with various multimedia decoding software, can be used to correspond to play all kinds of audio-visual media, and with various interfaces, with a variety of display devices such as TVS, projectors, plasma display, audio codec, audio amplifier, digital audio equipment connection using a personal computer.
How to choose and buy the HTPC
A Chassis, chassis radiated interference must be strictly controlled, and for a long time use of low power consumption, usually this kind of equipment use for a long time every day.
B The selection of PC power supply, power supply is the base of the PC, as the speed of increasing equipment and ascension, will inevitably make the power demand increased greatly, and the power supply fan noise, also must be strictly controlled, so it's best to large diameter low rotational speed, can effectively reduce the noise.
C Main choice, mainly divides into two directions is a pursuit of high performance computer configuration, this system is although the perfect in performance, but there is a fatal flaw, is case is big and huge power consumption, followed by need big fan, this leads to the noise of the players to be the most don't want to face; But in recent years the mainstream direction of integrated hardware USES high-definition video playback function of the main board to form a system, because according to the survey, put in the sitting room system is mainly to meet on the Internet, listening to music, hd video, board games, etc., the real demand for high demand for hardware of PC game actually not much, because now in addition to online games, many professional players choose professional game consoles to video games. As to further improve the performance of integrated graphics, a trend that more and more obvious. Other such as IEEE1394,USB 2.0, serial ATA, SCSI, integration and expansion CARDS are available.
D Memory configuration is sufficient, in 2009 the mainstream configuration in 2 g, the price is not expensive, basic can meet the needs of the next five years.
Hard disk nature is according with the budget, the bigger the better, recommend using 1 TB.
Cd-rom DVD cd-rom is necessary, read dish outstanding is the primary. Recorder can also be considered, but the ability to read disk slightly inferior to the DVD drive.
Wireless keyboard mouse: is also essential. Considering the actual needs, without powerful and complex wireless keyboard, ordinary wireless keyboard.
Remote control, because the system is usually placed in the sitting room is used, in order to conform to the manipulation of the environment, the sitting room must cooperate with remote control.
TV card, hd video at dozens of G and a small number, digital marketing is generally free set-top box can only support the standard definition, and global hd channel opening, more and more cases, digital TV has increasingly become the main source of Gao Qingyuan, if you want to realize the function of the encrypted digital TV on PC, recommend using the CA market occupies the first domestic novel-super chip TV card, digital taihe times, also can choose.
Other parts, can according to need and budget allocation, built-in bluetooth wifi is used, but generally DIY players not to come out of these things, so some brand manufacturers to launch integration system is both compact and beautiful function and complete, and gradually accepted by the market.
Advantages of HTPC
An ideal system must have is:
1. Appearance, small, beautiful ordinary case is too rough and sitting room, don't go to buy a worry system enthusiasts are appropriate exquisite chassis with just good motherboard and accessories is very difficult. General assembly limit is the mini – ITX size, quite a mini computer.
2.Low power consumption and mute, ordinary PC CPU fan, combined with the power supply fan noise is very big, no fan or mute fans are very important, but the common host easily hundreds of watts, inefficient, quantity of heat is greater, open to let a person very be agitated for a long time in the summer. 40 tile within the host usually is to use the laptop fan and related chip implementation, ordinary people don't buy the parts to assemble.
3. High performance, keep the above characteristics, and is close to ordinary PC performance, so as to play some popular 3 d games, such as world of warcraft, gourmet coaster, with 47 inches big TV feel very carefree
4. A good software for the remote control and coordination, improve the experience of the best control way, remote control is TV lying on the sofa and the most proud of is, of course, that the hand of a remote control, is common ordinary Windows software interface characteristics of small font is not good, not suitable for remote control, there must be a software similar to the media center that for TV, media center software on the market and to find suitable for the remote control is very trouble, good-looking key values are not appropriate, the appropriate modelling is not ideal, and the air mouse function, expensive is not necessarily good.
In addition, flexible configuration, strong processing power, storage capacity big rich and software are all we need. Both blu-ray and HD DVD, coding rate, HDMI, HDCP, dolby AC or DTS these resources as long as can convert MPEG2 format that can be system support.
What Format for Ripping Blu-ray onto HTPC
HTPC support all possible video formats with the help of various software; you can clone DVD to ISO image, copy DVD to VIDEO_TS file, or convert DVD video to MP4, AVI, etc. But now we recommend MPEG2 as the output format for DVD playback on HTPC, i.e., rip DVD to MPEG2 for the sake of exceeding compatibility and wide use range of MPEG2 format. So MPEG2 is our recommed format to play on HTPC.
Download the best CloneDVD  DVD to HTPC Ripper for Windows 10 / Mac OS

How to Rip/Convert DVD to Microsoft HTPC on PC (Mac)
CloneDVD DVD ripper helps you to rip &convert DVD to iPad/iPhone/smartphone. CloneDVD DVD ripper is professional DVD ripping software, which is specially designed for portable devices users to rip and convert any kind of DVDs (including copy-protected DVDs) to other media formats with excellent video/audio quality on Windows (10/8/7/XP) and iPhone/iPad/Android/Windows Phone for playback. CloneDVD DVD Ripper is absolutely the best DVD ripper for Windows 10; you can watch your favorite DVD movie on your favorite mobile devices anywhere, anytime. Besides, if you desire to make sophisticated movies, this DVD ripping software is the right product which enables you to trim, crop, merge, add watermark or subtitle, adjust video playback effects, flip or rotate for perfect movie enjoyments on the go! Plus, this software is designed to remove all protection like CSS, RC, UOPs and Sony ARccOS while converting. It can also convert and rip DVD to AVI, H.264.
Step 1. Load DVD File.
Load any DVD disc, ISO image file and VIDEO_TS folder can be converted to iPhone/iPad/Android/Windows Phone for playback. Click the relatively button on the left top interface to add source DVD file.
Step 2. Choose Output Format.
After the DVD file being loaded successfully, setting the output format where 320+ different output formats are available to choose. You can directly choose one format at "Common Video" category (MPEG2  is generally recommended to use on HTPC), or copy DVD movie at "Backup DVD" category.
Step 3. Save the Ripped DVD Video
You can save the output file in any folder of your computer and transfer it to HTPC/iPhone/iPad/Android/Windows Phone for playback.
Step 4. Hit Start to Set off Ripping DVD to HTPC/iPhone/iPad/Android/Windows Phone for playback.
DVD to MPEG2 will be ripped at super fast speed, with unmatchable quality.
Related Articles
● Rip DVD to FLV free to rip DVD to FLV with CloneDVD Blu-ray to FLV Ripper
● Convert H.265 to H.264 to better fit Windows 10 or to play MKV on TV
● Windows Phone 8 OS Supported Video and Audio Formats
● How to Rip DVD to Samsung Galaxy S6/Edge & Play DVD Movies on Galaxy S6/Edge
● How to Rip Copy DVD to Computer Stick with Windows/Android OS
● Rip & convert DVD to QuickTime Video for QuickTime Player
● How to Convert/Rip DVDs to USB Type-C to Putting DVD Movies to iPad , MacBook
● How to Rip & Convert DVD to HTV One M9+ to Play DVD Movies on HTV One M9+
● How to rip and stream DVD to Roke on PC or Mac
● How to rip & convert Disneynature's Monkey Kingdom movie DVD to Mp4 to play on
● How to Rip DVD to Xbox One on PC or Mac and Play DVD on New MS Xbox One