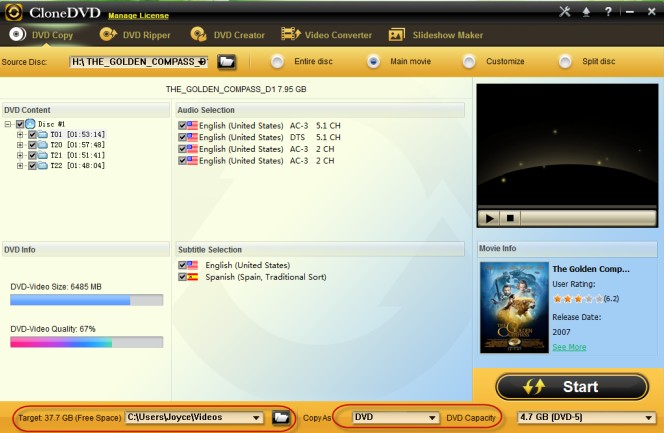 Since the born of iPhone, it becomes all the rage now. Born with a fantastic camera, people like to use it to take photos and record everything they met and liked. Therefore to edit your photos on iPhone is needed since you iPhone has no enough space to store all the pictures you have taken. There are so many photo editing apps for iPhone on AppStore and it is really hard to say which one is good or not. If you really want to use a good iPhone photo editing app to edit and retouch your photos on iPhone, just follow this article and find really great photo editor for iPhone. In the following article, the top 5 photo editing apps for iPhone are listed for your reference. Just read on and pick the one you like.
Option One – CloneDVD Slideshow Maker
CloneDVD Slideshow Maker combines photos, music and fancy designs to help weave exquisite slideshows through adjustable transition effects/ slide& fancy design templates. Designed with simple intuitive interface, this slideshow maker is ideal slideshow maker tool both for green hand and experienced users. You can make full use of the transitions effects attached to the photo slideshow maker to craft the target slideshow to your specialties and you are allowed to add titles/credits to the slideshow to make a more vivid showing. Slideshows created by this powerful slideshow maker can be saved as AVI & HD, etc, supporting multiple mobile devices such as iPad2/3/Mini, iPhone4/4S/5, Samsung and more. Learn more about Slideshow Maker >>
Option Two – PowerCam
PowerCam is a free and exciting photo editing app for iPhone developed by Wondershare. With it, you can apply real-time effects to enhance your captures like a magic. It's free for limited time. Now set your creativity free with 50+ effects, including tilt shift, color splash, sketch, etc. Your captures can be immediately shared on YouTube, Flickr, Facebook, Twitter, Tumblr, and much more. This photo editing app for iPhone supports a lot of languages, including English, Chinese, French, German, Greek, Hungarian, Italian, Japanese, Korean, Polish, Portuguese, Spanish. Really fantastic, isn't it?
Option Three – Photoshop Express
Adobe Photoshop Express is a free iPhone photo editing software which helps you retouch your photos with ease. Photoshop Express provides simple and advanced video editing features to help users make adjustments, crop photos, etc. by just swiping and dragging your finger across the screen.
Option Four – Camera +
Camera+ is a camera app and offers many exposure effects like Sunset, Backlit, Cloudy, etc. This app for iPhone photo editing comes with an easy-to-use interface and offers great image editing features like fipping, rotating, borders and cropping.
Option Five – Instagram
Instagram is actually an iPhone photo sharing app with some photo editing features. To use it, you need to create an account first. After you sign up, you can follow some friends to pay attention to their shared photos and add photos from your iPhone photo library to add some photo effects to enhance the photos.